I love this pic because I believe is a real portrait of our life, love, work and strength as shown through the smiling faces Positano's youngsters securing the boats before the big storm https://www.instagram.com/positanophototour/
Positano, the "Pearl of the Amalfi Coast" 
---
Getting to the Amalfi Coast ( positano ) from airport of capodichino Naples 
You have  five  Options:
By Curreri bus to Sorrento, From the Capodichino Airport in Naples you can either catch a bus that takes you to sorrento - There are buses for Sorrento at the times:9,00,11,30 13,00 14,30 16,30,and 19,30  please note: schedule is subject to change without notice;please check for any changes Curreri bus stop outside Terminal 1 Tickets cost about €10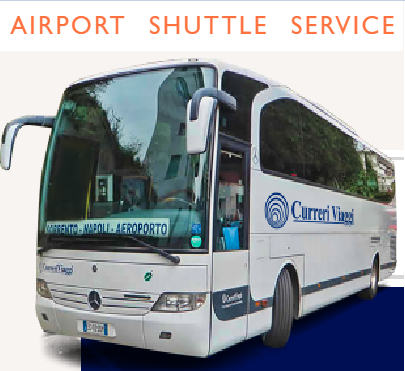 By Taxi  I recommend you to book a taxi from Positano ,they have new cars , professional taxi drivers and speak English. 
By Ferry  From Naples Airport to Naples harbor (Beverello): Shuttle service leaves every 10 minutes ( Alibus bus stop outside Terminal 1 Tickets cost about €4 and can be purchased directly from the driver.http://www.anm.it/images/stories/PDF/alibus/1.capodichino%202015.pdf
Alibus shuttle buses zip you from the airport to Naples Centrale train station/Piazza Garibaldi in 10 minutes,and then head to the port/Piazza Municipio for ferry to Capri , Sorrento and Positano( buses run daily 6,30-24,00 ).From Naples harbor in Positano, with stops in Capri: Search times on site Alilauro e Caremar; trying to combine with arrival and departure. Definitely not an inexpensive solution, total costs may reach around 40/50 € per person.
https://shop.caremar.it/it/    https://www.travelmar.it/en/index   http://www.alilauro.it/orari-e-tariffe  
High speed ferry  Napoli -Positano 1h 20m -Passengers must make check-in procedures at the boarding points from Molo Beverello dock 6 (in alternative please look the boat from dock 4 to 7) - directly on board HYDRA (POSITANOJET) from July 1st  to August 30th € 28.00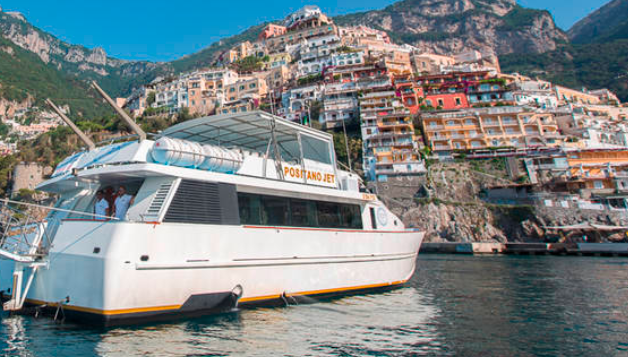 https://www.lucibello.it/en/positano-jet
Due to the Covid-19 emergency, many routes have been suspended until 20 April, 2021.
By car If you're driving from the west, eastbound, Positano is the first town you'll come across on the Amalfi Coast.
The town is approximately a 75 minute drive away from Naples and twenty minutes away from Sorrento. You can also get to Positano by one of the buses run by the Sita coach company and, in the summer months, by boat.
Meeting point near the Restaurant C'era una Volta or Palazzo Marzoli Please rent a small car, 'cause the streets are very narrow a Positano.It is very difficult to park on the road.The price of parking in Positano is 8-9 EUR each hour.Casa Perla has an agreement with the parking Anna to EUR 30 per night.The car is withdrawn and returned near the house.if you are driving from Rome,take the A1 highway ( autostrada ) towards Naples.
Road signs with directions for the autostrada in Italy are green.Drive along A1 until it ends,ll the way until you find the toll booths in front of you,and then start following the directions for the A3 highway towards Salerno CAREFUL A3 and A30 are not the same,even though they both go to Salerno
If you take A30 the drive will be a bit more complicated.Be sure not to take A30( to take A30 you need to turn right on a ramp when you around Caserta .-don't do it,drive straight to the end of A1 and then follow the signs for A3 ).If you departing from Napkes,take the A3 highway from Naples towards Salerno.Once you are on the A3 highway exit Castellamare di Stabia ( Castellamare for short ) Don't miss the exit or you will arrive to Salerno.
Once you have exited the highway,follow the signs for Sorrento and Costiera Sorrentina SS163. When you get to Sorrento follow signs for Positano -Amalfi
 Circumvesuviana Train Info  - Napoli -Sorrento 
Inside the Station Piazza Garibaldi in Naples down below and take the Circumvesuviana train to Sorrento the trip takes one hour ( there are two types of tickets: the ticket for a single ride and the integrated ticket (TIC) also applies to bus and subway. If you plan to take other means of transport that, ask at the ticket office.
The travel time between Naples and Sorrento is 1 hour and 10 minutes. The trains marked with the initials DD does not stop at all stations and arrive in Sorrento in 50 minutes.The ticket from Naples to Sorrento currently costs 3 Euros and 90.Sorrento is the last stop on the line.
The Circumvesuviana of Naples Piazza Garibaldi station is located on the lower level of the station, below the one where the high-speed trains arrive.
The Sorrento trains generally depart from platform 3, to access this binary there are no escalators or elevators. Attention to the message on the display that announce the incoming train to be sure to take the train to Sorrento, or else you risk finding yourself in Sarno! ( single-track line ) At Sorrento station you will find instead the elevator. The station is at the center of Sorrento.be careful on the train in the trait Napoli - Pompei there may be pickpockets.Put the cell phone and the money in the pocket in front and keep the bag always close to you In Sorrento outside the circumvesuviana station you can catch a bus for Positano ( CHIESA NUOVA )-Amalfi, .You can buy bus tickets at most newsstand and, Tabacchi Stores, unless you already hold a valid ticket from your earlier trip.
http://www.unicocampania.it/
( you can not buy the ticket on the sita bus, without a ticket you will takes a fine of 100 Euros) On the bus,ask the driver to stop you at Bar Internazionale in Positano.The first stop in Positano CHIESA NUOVA ( In Italiano.Per piacere,puo' farci scendere alla prima fermata di Positano Chiesa Nuova VICINO AL BAR NTERNAZIONALE).Please,can you let us get off at the first stop in Positano Chiesa Nuova close internazionale bar )
Getting to Napoli from Sorrento by  Campania Express
2020 Campania Express Train Schedules Naples -.Sorrento
The Campania Express is a special tourist line that runs along the same route as the Circumvesuviana between Naples and Sorrento, but stops at just a few stations and takes about 30 minutes less than the commuter trains to complete the trip. These trains have guaranteed seating, air conditioning, and space to store baggage.
https://www.eavsrl.it/web/content/campania-express-2019
These trains run from mid-March to mid-October.Tickets for the Campania Express from Naples to Sorrento cost around EUR 8; from Naples to Pompei cost around EUR 6;from Sorrento to Pompeii around EUR 4.Tickets can be purchased online through the official EAV Campania website or at the Circumvesuviana ticket office 20 minutes before departure.The Circumvesuviana train station at Napoli Centrale in Piazza Garibaldi is on the lower level, below the platforms for the high-speed trains.The biggest difference between the regular Circumvesuviana trains and the Campania Express trains are that the latter are specifically designed for tourists and offer air conditioning, guaranteed seating, and luggage storage.
Naples -Positano and Praiano Shuttle Bus private service  with car  sharing system
https://www.positanoshuttle.com/
Shuttle bus service from Naples Capodichino Airport or Naples central train station and Rome Termini station,Fiumicino or Ciampino Airports to Positano or Praiano.You will enjoy the ride from Naples Airport or Central Train Station(Piazza Garibaldi) to your accommodation in Positano or Praiano.
Naples airport to POSITANO, shared transfer
 Getting to the Amalfi Coast from From  Rome Fiumicino Airport
From the railway station, located inside the airport area close to the arrival and departure terminals, you can reach the city centre ( Roma Termini)using the numerous and frequent connectionsof the Leonardo Express shuttle train.The Leonardo express, non-stop service dedicated exclusively to airport passengers to/from Roma Termini with departures every 15 minutes and travel time of 32 minutes* You ca buy Train tickets from Rome to Naples in the station (at the ticket office or from the automatic dispensers) or online using https://www.trenitalia.com/
From the Rome Fiumicino airport you can also take a direct bus to Piazza Garibaldi in Naples
https://fiumicinoexpress.rezdy.com/
An Alternative: Continue on to Salerno:The Freccia Rossa TAV trains go as far as Salerno. You can get off there and take the bus to Amalfi or one of the ferries to Amalfi and Positano. The Molo Concordia pier is located directly opposite the train station in Salerno, so is the easiest to reach. The Molo Manfredi pier is located a few kilometers from the station, so you will need to hire a taxi.Salerno's TI has bus,ferry,and train schedules
You have lost your baggages
Here below you find a list of useful numbers in case of baggage loss
+39 081 7896118  - +39 081 7896540  -199 280180  -+39 081 7896766 - + 39 081 7896765
lost&found@ghnapoli.it     infobag@as-airport.it
alternatively you can visit this website
ORIENTATION TO POSITANO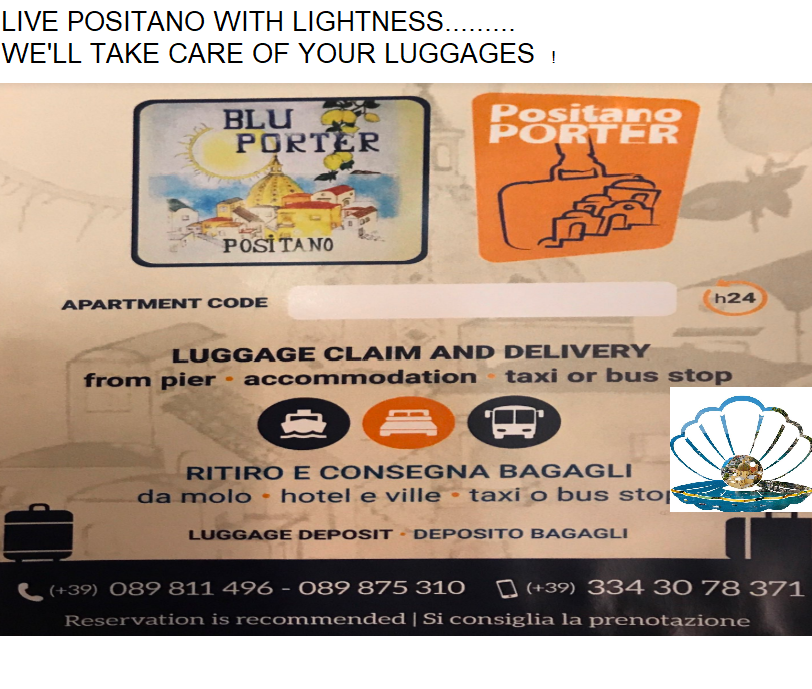 A luggage service called Blu Porter'can meet you at your home if you need them .The cost for luggage euro 5 a piece -but you have to call them in advance ( tel +39 089 811496 ).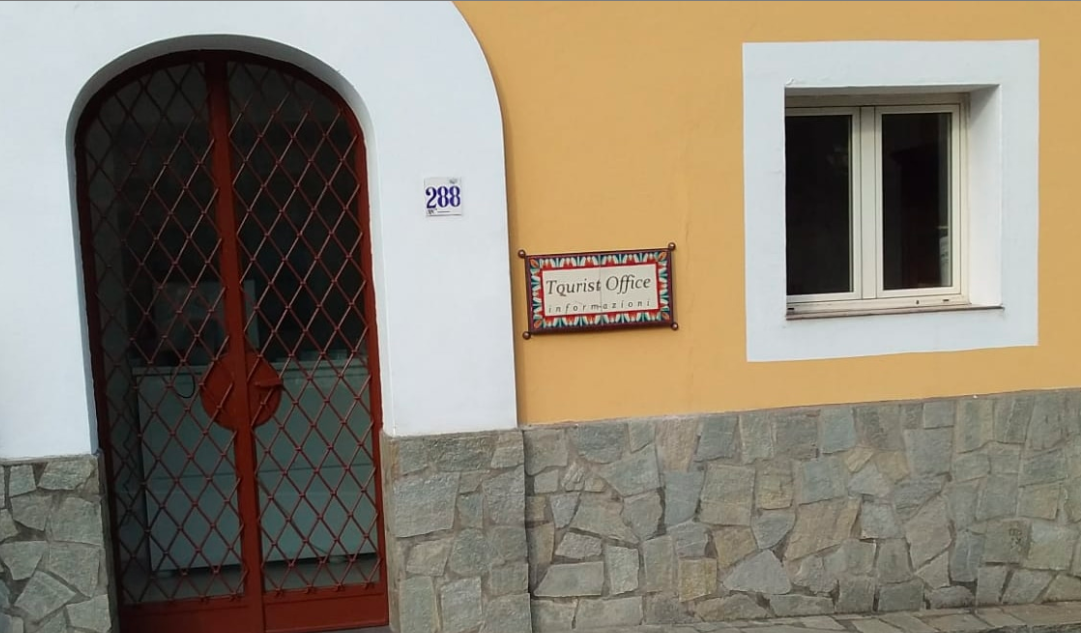 Autonomous Agency for Hospitality and Tourism City of Positano
Indirizzo: Via Guglielmo Marconi 288 84017 Positano (Sa) - Italy tel.: +39 089875067 Fax: +39 089875760 
E-Mail: info@aziendaturismopositano.it 
Web:http://www.aziendaturismopositano.it/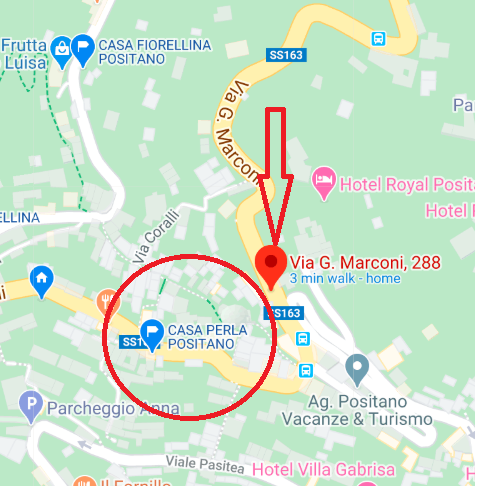 The Tourist Information Office in Positano is located on the main road 50 meters from Casa Perla on the left after pastry shop Collina
LUGGAGE STORAGE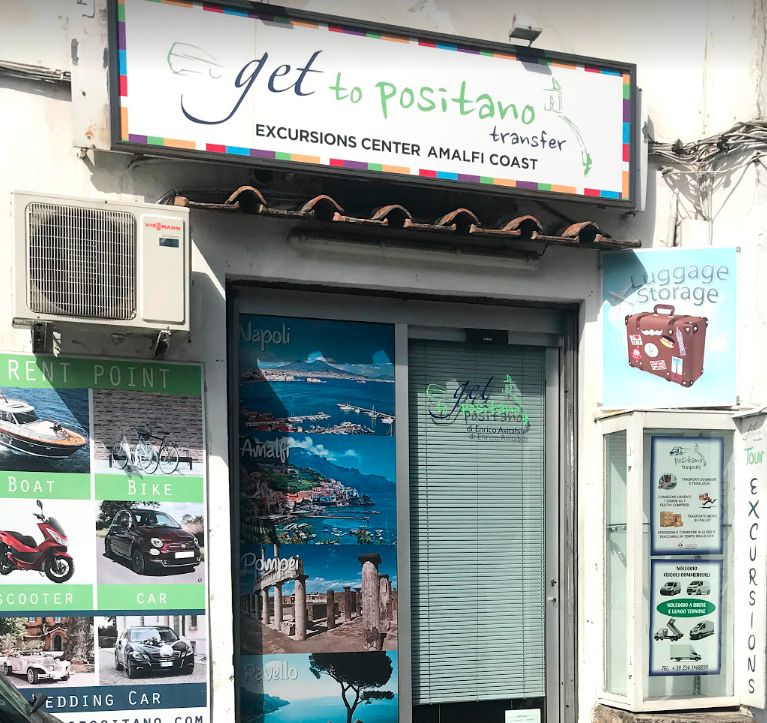 Luggage storage in Positano is located on the main road 60 meters from Casa Perla near the sita bus station
Positano walk
Piazza dei Mulini:This is as meeting point -as close to the beach as vehicles can get and the lower stop for the little red-and -white shuttle bus.Collina Bakery is a local hang-out ( in this small town,gossiping is a big pastime ) -older people tend to gather inside,while the younger crowd congregates on the wisteria-draped terrace across the street.
The terrace also shades the best granita ( lemon slush ) stand in town,where the family has been following the same secret recipe for generations.
Dip into the little yellow Church of the Holy Rosary ( by the road ),with a serene 12th-century interior.Up front to the right of the mainm altar ,find the delicately carved fragment of a Roman sarcophagus ( first century a.c.).Positano sits upon the site of a sprawiling Roman Villa.Now walking towards the beach, there are a variety of shops-many selling linen and ceramics .These shops boomed when tourists discovered Positano in the 1970.The beach-inspired Moda Positano faschion label was born as a break from the rigid dress code of the 50s.
Shopping
Linen: Garments made of linen / especially women's dresses) are popular items in Positano.To find a good -quality piece that will last,look for Made i n Positano ( or at least Made in Italy) on the label,snd check the percentage of linen;60 percent or more is excellent quality.Three companies with top reputations and multiple outlets are Brunellla ,Pepito's and Vanilla di Laura De Martino( each has shops ( Via Pasitea and Via Cristoforo Colombo )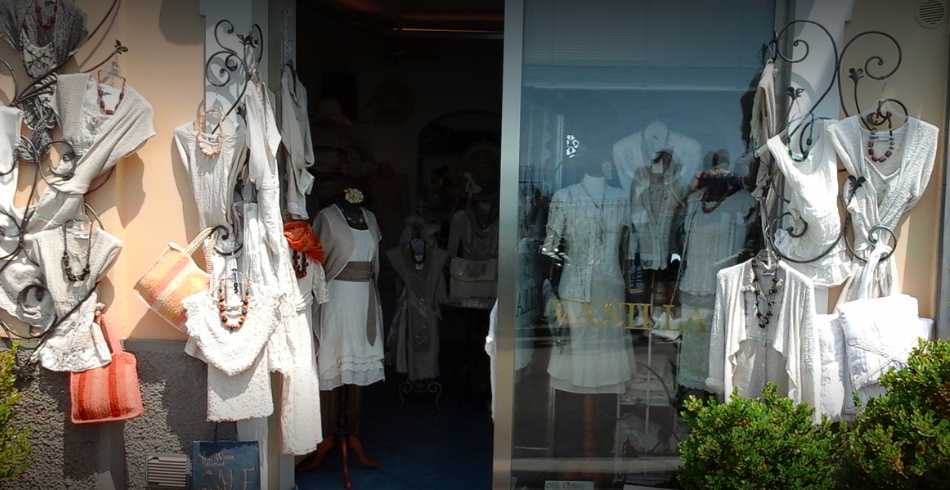 Souvenir from Positano

You'll find everything you could possibly make with the Amalfi Coast's lemons in the "I Sapori di Positano" shop, in via Mulini 6. Purchase a pair of the most beautiful sandals in the world from Safari Sandali, in via della Tartana 2. Buy an authentic piece of Moda Positano in Maria Lampo's historic boutique, in via Pasitea 16.
Positano, like the legendary Sirens of Li Galli, never fails to seduce.
Seen from the sea, Positano is set in a dramatic vertical panorama of colors; the green of the Monti Lattari, the white, pink and yellow of the Mediterranean houses, the silvery grey of its pebble beaches and the blue of the sea.
History
The Ancient Romans built a number of sumptuous villas on the coast of Positano, the ruins of which can be seen in the vicinity of the Church dell'Assunta.It is believed that the town, the original nucleus of which developed around a Benedictine abbey, was founded in the 9th century.
The town grew considerably following the arrival of inhabitants from Paestum, fleeing Saracen incursions.After it was pillaged by Pisa in 1268, Positano increased its defenses, becoming similar to its powerful neighbor, Amalfi: with steep narrow roads, massive fortified walls, and a series of all-important watch towers.The majolica tiled dome of the Collegiate Church of Santa Maria Assunta can be seen from every corner of the town. A Byzantine inspired Icon of a black Madonna, dating back to the 18th century, is conserved inside the church.The name Positano, is linked to a legend.
In ancient times, a Turkish boat became beached just off the shores of what has since come to be known as Positano.Aboard the ship there was a painting of the Virgin Mary.The captain heard the painting whisper "posa, posa" ('set me down, set me down') and, obediently, threw the image into the sea. Miraculously, the ship floated.The locals built a Church on the spot where the painting washed ashore, interpreting the episode as a sign that the Virgin had chosen their town as resting place.The fortunes of Positano, like its roads, have continually risen and fallen: in 1343 the town was destroyed by a terrible tsunami and in the 15th century it was the victim of continual attacks by Ottoman pirates.In the 18th century, Positano enjoyed a period of prosperity as a major port and trading hub. Following the unification of Italy and the opening of a number of new commercial routes, the town's importance began to decline, so much so that, in just a few decades, it was reduced to little more than a humble fishing village, many of the inhabitants of which decided to emigrate to the United States.
A Museum Visit to Explore the History of Positano
Discover the ancient history of Positano by visiting the local Museo Archeologico Romano, recently inaugurated on the site where an ancient Roman villa once stood beneath the oratory of the Church of the SS. Maria Assunta in Piazza Flavio Gioia, 7. Visitors can admire fragments of the original architecture and decorations to learn about Positano's Roman history with the help of mulitmedia displays that explain more in depth the ruins. From 11 April to 31 October, the museum is open daily from 9AM to 8:30PM (and from 10AM to 4PM from 1 November to 10 April). You can also take a 30-minute guided tour for groups of up to 10. Tickets cost EUR15/person and only payment by credit or debit card is accepted.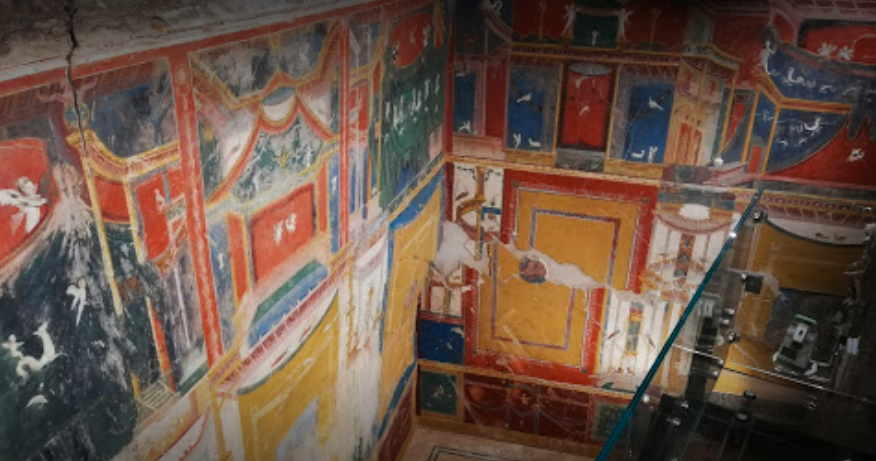 Radical chic retreat
With the construction of the SS163 road, a much needed alternative to the mountain paths which had, until then, formed the only link between the Amalfi Coast and the rest of Italy, Positano once more began to flourish.The new road united the town with Sorrento and Naples and allowed the first tourists to reach Positano.These were no ordinary tourists, but rather an elite group of travelers, comprised of intellectuals, artists, and celebrities who, from the early 20th century onwards, elected Positano as their preferred holiday resort.Escher, Steinbeck, Picasso, Klee, Zeffirelli and Liz Taylor: the list of artists who have fallen helplessly in love with the beauty of Positano's land and seascapes is endless."Willing prisoners of a legendary landscape" as they used to define themselves...
Eating in Positano on the beach
At the waterfront on the main beach (Marina grande) there are several restaurants with view terraces leave people satisfied and happy .Capricci in Positano: Restaurant, Delicatessen, Take Away, Pizzeria
Capricci in Positano offers you an enchanting little restaurant; on the ground floor and upstairs there are a delicious Delicatessen, a Take-Away, and a Pizzeria.Via Regina Giovanna, 12, 84017 Positano SA - 089 812145
https://www.capriccipositano.it
On the beachfront of Positano
Le Tre Sorelle is a meeting point for lovers of good food and good drinking, as well as a must for any self-respecting gourmet. The enchanting panorama is the background for the tasting of excellent food and the pleasant and relaxing atmosphere.Le Tre Sorelle Restaurant is located on the Spiaggia Grande, one of the most famous beaches of Positano.Via del Brigantino, 27/29 – 84017 Positano (SA) - Italy-Phone: +39 089 87 54 52
Email:info@letresorellepositano.it
https://www.letresorellepositano.it
On the beachfront of Positano
Chez Black's favorite restaurant by star -The courtesy, reliability, and the exaltation of the flavours and aromas of Mediterranean dishes that will be served, make the Restaurant Chez Black an ideal place to have tasty delicious lunches and dinners that will make pleasant your staying in Positano.(Chez Black are the same owners of the Rada restaurant and the music on the rocks) Via del Brigantino, 19 Positano - Salerno -+39 089 875 036-+39 089 875 789 -info@chezblack.it
http://www.chezblack.it
 RADA restaurant FLY BAR 089 875874 Via Grotte dell'incanto, 51, 84017 Positano
https://www.radapositano.it

Disco Dinner Club of Positano, on the Amalfi Coast, is since 40 years a point of reference for national and international clubbing. The Music on The Rocks is one of the leading clubs in Europe for location and music programming, and it is a destination for VIPs and personalities of Show Business and of Film and Entertainment.
http://www.musicontherocks.it/
On the beachfront of Positano
The Buca di Bacco Hotel, with its renowned restaurant, became the destination of choice for tourists visiting the Amalfi coast in the early '50 during la Dolce Vita period. Via Rampa Teglia Buca di Bacco Tel: (+39) 089 875699- Fax: (+39) 089 875731- E-Mail: info@bucadibacco.it -
http://www.bucadibacco.it/restaurant.asp
On the beachfront of Positano
In the welcoming timeless setting of the Main Beach of Positano, according to its typical style that makes this town unique in the world, "La Pergola" Restaurant is very informal during the day while by night it offers you candlelit corners for romantic dinners.
Kindly served by a helpful staff, you can order your preferred traditional Italian course at anytime from brunch to dinner. Continuous service is available from 12:00 a.m. to 12:00 p.m. Tel: 089 812076 -E-mail: info@bucapositano.it
https://www.bucadibaccolapergola.com/
On the beach of Positano
Wine-Dark House around the corner fom the beach
( and the TI ),fills a cute little piazzetta at the start of Saraceno alley.They serve good food ( 10 -20 euro pastas and secondi ).have a respect for wine ( several local wines -5 euro/glass)and are popular with Positano's youngsters for their long list of 6-7 euro sandwiches( closed Tue, Via del Saracino, 6/8, 84017 Positano SA +39 089 811925
https://www.tripadvisor.it/Restaurant_Review-g194863-d2337094-Reviews-Wine_dark_house-Positano
https://www.facebook.com/The-Wine-Dark-House-185223881527439/
 On the beach of Positano
The restaurant of Covo dei Saraceni, with a enchanting view on the sea and Positano, offers a menu rooted in the traditional cuisine of Positano; the careful presentation of every dish will make your enogastronomic experience unforgettable.
Via Regina Giovanna, 5 84017 Positano (SA), Italy -Phone +39 089 87 54 00 Fax +39 089 87 58 78 -email: economato@covodeisaraceni.it -email: info@covodeisaraceni.it
https://www.covodeisaraceni.it/restaurant-and-bar/


On the beach of Positano -Positano Paradise Lounge Bar Via del Saracino 32 Corso Positano, 84017 Positano SA-phone-089 811461
https://www.facebook.com/BarParadisePositano/
Lo Guarracino restaurant overlooking the panoramic Torre Clavel and the sea , towards to Fornillo Beach,is a local favorite for its great views and good food at prices similar to the main beach restaurants (13-15 euro pizzas,15-25 euro homemade pasta with seafood,and secondi,daily 12:00-15:00 & 19:00-24:00,closed Nov -march.
lit by a full moon The piano bar " Guarracino Night" is waiting for you every night in the beautiful summer season with live music , dancing and fun.
Via Positanesi d'America, 12 – 84017 – Positano (SA) -Tel. +39 089 875794 -info@loguarracinopositano.it
http://www.loguarracinopositano.it/
On the beach of Positano
Picnics:If a picnic dinner on your balcony or the beach sounds good, sunny Emilia Delicatessen grocery store can supply the ingredients:antipasto misto,pastas,home -cooked diskesand sandwiches made to order.She'll heat it up for you-Via dei Mulini 5,phone 089-875-489.
https://www.tripadvisor.it/Restaurant_Review-g194863-d2357559-Reviews-Delicatessen-Positano_Amalfi_Coast_Province_of_Salerno_Campania.html
On the beach of Positano
Vini e Panini ,another small grocery,is a block from the beach a fews steps above the TI.Daniela,the fifth-generation owner,speaks English and happily makes sandwiches to order.Choose from the Caprese ( mozzarella and tomato),the Positano ( mozarella ,tomato,and prosciutto),or create you own ( 4-6euro each).Via del Saracino, 31, 84017 Positano SA Phone 089 875175
https://www.facebook.com/Vini-e-Panini-_1890-560142014407945/
https://www.positanowineshop.it/it/
Dining on a Budget in Positano
Where can I eat out on the Amalfi Coast without spending a fortune? Here are our picks for enjoying a lunch or dinner out on a budget, but with quality food and authentic dishes. We live on this stretch of coast, so know the best low-cost options: trattorias, pizzerias, bars, take-away delis, and snack bars of the beach.
If you are visiting Positano and suddenly get hungry, it's good to know where to stop for a bite without breaking the bank. You'll be surprised to find that there are a number of budget options that prepare delicious dishes based on the quality ingredients found along the coast, and that you can dine in one of the most beautiful (and notoriously expensive) places in the world without spending a fortune. That said, you need to know where to look to find these budget gems, so here are our tips for eating well while spending less in Positano!
If you'd like to sample something other than fish and seafood, where can you order meat dishes in Positano without busting your budget? Tickle your taste buds at La Tagliata in Montepertuso​,​ set in the hills at the top of town. There are dishes to suit every budget, but the quality is guaranteed no matter what you order. Everything is made in the kitchen with local ingredients, and there are farm animals and a vegetable garden just steps from the dining room. Be sure to take in the views over the Bay of Naples fro the dining room, and see if you can spot the Faraglioni off the coast of Capri.
Our suggestions: the menu includes a number of starters featuring vegetables, legumes, and cheeses. Pasta is made fresh each day, but the restaurant is famous for its excellent meat dishes from the classic fiorentina steak to grilled beef and pork so good that you will want to come back for more. The portions are all very generous.
Prices:​ from EUR 20 to 40. -Via Tagliata n°32b 84017 - Positano (SA) Tel. (+39) 089 875 872-Fax. (+39) 089 812 2020-Mail: info@latagliata.com
https://www.latagliata.com/
C'era Una Volta, in Positano, is a place of luminous beauty, set like a precious stone on the majestic Amalfi Coast.
The restaurant with seafood specialties is the ideal destination for those who love to explore the delicious dishes of typical Positano cuisine: not only fish, but also meat, cold cuts, cheeses, mozzarella and, of course, the delicious Neapolitan pizza are served for lunch and dinner. . Let yourself be welcomed by the typical Mediterranean warmth, and in the evening a free shuttle will be at your disposal to escort you to our restaurant.
 Via G. Marconi, 127, 84017 Positano SA telefono: 089 811930
https://www.ristoranteceraunavolta-positano.com
Pizzeria-Restaurant "Da Costantino" a great expert in cooking, who always doing with passion and whose recipes because famous in the Amalfitanian Coast. He passed it to his the brothers and other persons of his Family.
 Via Corvo, 107, 84017 Positano SA -Telefono: 089 875738
http://www.dacostantino.net/

Latteria: Lunch on the Go
This eatery on Via Pasitea is a great spot to sample traditional food from the coast, where you can eat well on a budget in Positano. They prepare everything from pasta dishes to meat and fish, as well as desserts and sandwiches. The dining room is tiny and spartan, but there are a few tables outside under the shade trees, and the ingredients are all excellent. If you're not sure where to stop for a bite, this local gem will win you over.
Our suggestions: eggplant parmesan, meatballs, lasagna. Don't miss the crema di caffè dessert.
Prices​: from EUR 7.
https://www.tripadvisor.it/Restaurant_Review-g194863-d6567363-Reviews-Latteria-Positano_Amalfi_Coast_Province_of_Salerno_Campania.html
Casa e Bottega: Tradition and Innovation
This simple but elegant spot with its shabby chic white décor - Via Pasitea e near the parking garages, and is an ideal choice for sampling traditional specialties updated with an innovative twist, often inspired by American cuisine.
Our suggestions: soup with chickpeas, spelt, and cabbage; fried egg with burrata cheese and vegetables; involtini with goat cheese; and chicken tenders.They offer gluten free, vegetarian, and vegan options made with fresh ingredients.
Casa e Bottega also serves late breakfast, including excellent pancakes. Everything is presented very creatively on artisan ceramic dishes made locally.Prices: ​from EUR 6 to 25.
https://casaebottegapositano.com/

Beach Bars: Bagni da Ferdinando
This family-run beach bar is located in Fornillo, one of the beaches in Positano that is set a bit outside the center of town. Here, you can relax under an umbrella and enjoy one of the classic dishes from the Amalfi Coast at a reasonable price. They offer interesting salads, delicious cold and hot appetizers, and first and second courses with fish, meat, or vegetables.
We suggest the lemon ravioli with ricotta and lobster, but the baked and grilled fish is also excellent.
This is one of the most inexpensive restaurants in Positano that combines quality and authenticity, and you can also order their pizza and enjoy the relaxed atmosphere far from the crowds in the center of town.
Price​: from EUR 6 to 17.
https://www.tripadvisor.it/Restaurant_Review-g194863-d1738914-Reviews-Da_Ferdinando-Positano_Amalfi_Coast_Province_of_Salerno_Campania.html
Dining on a Budget in Sorrento
Sorrento: Where to Have Lunch
First you'll want to spend a few hours visiting Sorrento, which is an excellent idea as this resort town is perfectly positioned to then set off and explore the Amalfi Coast. There is both beautiful scenery and historic monuments to take in, and the center of town is thick with restaurants, take-away delis, and bars that are both inexpensive and good quality. Here's where to eat in Sorrento without breaking the bank, and without wasting precious touring time.
Inexpensive Pizza in Sorrento
The best way to eat well for less in Sorrento is by choosing pizza, and southern Italy's iconic Margherita never gets old. Our favorites:

Il Leone Rosso​: located on Via Marziale near Corso Italia in the center of town, just a few minutes from the Circumvesuviana station. There is a wide variety of pizzas from the classic Margherita to dessert pizza with Nutella. In addition, clients are given a warm focaccia as a welcome and a glass of traditional limoncello to end the meal.Prices: between EUR 10 and 20.
https://www.illeonerosso.it/
Da Franco
This pizzeria in Sorrento is an institution. Located just a few steps from Piazza Lauro in the heart of the city the dining room is very old-style with wooden tables and prosciutto hams hanging fro the ceiling. The cutlery and plates are plastic, and service is quick. Though the vibe may be bare-bones, the rich flavors and aromas more than make up for it.
Our suggestions: try the prosciutto crudo (Parma or San Daniele) served sliced with fiordilatte di Agerola mozzarella cheese and grilled smoked scamorza cheese with black olives and chili pepper. Don't leave without sampling the "pizza al metro", or pizza by the meter, served with a number of toppings and surprisingly light. This restaurant is a great choice for large families.Prices:​ from around EUR 18.
https://www.facebook.com/daFrancopizzeriasorrento/
Trattoria Chantecler on Via Santa Maria della Pietà that runs parallel Corso Italia in the town center. Homestyle cooking, with flavorful dishes and large portions...all at a great price. The décor is rustic and service is fast. There are also outdoor tables set up along the pedestrian lane that is very quiet for those who want to dine al fresco.Our suggestions: eggplant parmesan, lasagna, and fish, usually very fresh.Insider tip Avoid dining here on Sundays, when the restaurant can be packed.If you're in a hurry, they also offer take away meals. Prices​: from EUR 6 to 20.
https://www.chanteclers.com/

La Cantinaccia del Popolo is where you can dine in Sorrento for very little while feeling like part of the family. The restaurant is located just steps from Corso Italia, and the décor is traditional and simple, but the dishes are generously portioned and deliciously prepared with excellent quality ingredients. If you want to try classic recipes from the Sorrentine Peninsula, this is the right spot. The restaurant also produces its own wine and liqueurs.Our suggestions: the prosciutto and cheese antipasto, as well as the meat dishes.Prices​: from EUR 5 to 30.
https://www.facebook.com/La-Cantinaccia-Del-Popolo-492154434283499/
For sweets like gelato, crepes, and frozen yogurt, try the gelateria Davide Augusto​, a family-run gelateria with a large assortment of flavors from the classic seasonal fruits (strawberry, peach, cherry, and melon) to local specialties like Sorrento lemon, Giffoni hazelnut, and Bronte pistachio. If you are looking for something new to try, order a savory gelato made with milk and cream mixed with vegetable or cheese and topped with fresh fruit. They also serve crepes, frozen yogurt, and Belgian waffles. All this just a few minutes from the Circumvesuviana and Corso Italia.Price per gelato​: from EUR 2.50.Where We Are Via Marziale, 19 Sorrento  Ph: +39 081 807 36 49-Ph: +39 338 365 06 99 info@gelateriadavidsorrento.it-We Are Open All Week
08.00 am - 01.00 am
http://www.gelateriadavidsorrento.it/en/gelateria.php

If you would like a quick, savory snack, stop for a sandwich in Sorrento at A'Marenna
This tiny spot on Piazza Tasso in the center of Sorrento is easy to spot, with its window crowded with delicacies, its food cart, and its contagious lively vibe. The sandwiches are delicious, made with quality ingredients and not too heavy. They also prepare classic hot dogs, gourmet sandwiches, and vegetarian options. There is a wide variety of choices and you can tuck in to your sandwich on the go while you decide what to see in Sorrento.
Prices​: from EUR 4. Via Torquato Tasso, 23, 80067 Sorrento phone-081 1849 5183
https://www.facebook.com/amarennasorrento

Amalfi: Where to Dine on a Budget
If you are staying in Amalfi for your holiday or visiting for the day, here is where you can eat well but inexpensively.Da Maria: Restaurant and Pizzeria
This is one of the most beloved pizzerias in Amalfi, located just a few steps from the Duomo. Here you can try traditional classics prepared with simplicity and passion. The restaurant has been run by the Pisacane family since 1968, and is a favorite with visitors and locals for its fresh fish and fantastic pizza.Our suggestions: spaghetti with clams and anchovies.Prices:​ from EUR 12 to 20.Via Lorenzo D'Amalfi, 14, 84011 Amalfi 089 871880
http://www.amalfitrattoriadamaria.com/

Cuoppo d'Amalfi: Fresh Fried Fish and Seafood
If you want an unforgettable snack in Amalfi without breaking the bank, stop at Al Cuoppo, a tiny spot located in a historic church tucked in the town's tiny backstreets. Open 24 hours a day, this street food mecca serves paper cones of fried fish and seafood that is always fresh. There are places to sit and eat outside, but there is always a crowd so it's best to place your order to go and enjoy munching on the crispy battered fish and seafood while walking through town.Our suggestions: there are a number of cone options, from calamari and shrimp, mixed fish and seafood, and even vegetables.
Prices: ​from EUR 5 to 12.Via Supportico dei Ferrari, 12 
https://www.facebook.com/cuoppo.damalfi/

Pasticceria Da Leone
Need to satisfy your sweet tooth in Amalfi? Stop at the Pasticceria Leone​ in the center of town, a small bakery and pastry shop that would be easy to miss if not for the beautiful cakes in the window and aroma of coffee.Our suggestions: torta caprese, pastries, granita.Prices:​ from EUR 2 to 7.
http://www.pasticcerialeone.it/
Where to Eat for Less in Ravello
This picturesque spot, famous for its music festival, is home to Villa Cimbrone and Villa Rufolo, where the world-class Ravello Festival is held each year. If you are visiting this small gem on the Amalfi Coast, where can your eat on a budget?If you're pressed for time and want a cheap meal in Ravello, you can always opt for a sandwich.
Il Panino: Sandwich Shop and Café
Want a quick but delicious sandwich in Ravello? Stop at Il Panino, the sandwich shop in Piazza Duomo just steps from Villa Rufolo. If you're not in too much of a rush, sit down to enjoy the beauty of the town's architecture and watch the streams of visitors stroll by. The sandwiches are excellent, made with fresh ingredients and warm bread. There is no cover charge for table seating.Our suggestions: sandwich with pancetta and provola or with eggplant and mushrooms.Prezzo:​ dai 5 ai 7 euro circa.
https://www.facebook.com/ilpaninosnc/
Locanda Moresca: A Real Meal
If you're looking for a low-cost meal in Ravello, look no further than Locanda Moresca. This small restaurant is located on the medieval Piazza Fontana Moresca and serves lunch and dinner. Menus highlight traditional dishes, served in a romantic atmosphere and based on classic recipes from the Amalfi Coast prepared with a touch of contemporary style
Our suggestions: simple seafood or meat dishes made with healthy, natural ingredients.
Insider tip:Be sure to try their fried specialties; potato gnocchetti with peppers, clams, and cherry tomatoes; tagliata steak with arugula and parmesan cheese; and cod. The desserts and wines are also delightful.Prices​: from EUR 12 to 20.
https://www.lamorescaravello.com/it/locanda
Now you know where to dine on a budget on Italy's Amalfi Coast, with our guide to inexpensive restaurants
The beaches of Positano
Positano's pebbly and sandy main Beach,Spiaggia Grande ,is colerful with umbrellas as it stretches wide around thje cove.It's mostly private ( pay to enter,includes lounge chair , umbrella ,dressing room, and bathroom).the restaurant is extra.With a frees section near the middle ,close to where the boats take off.(Look for the pay showers).The nearest wc is beneath the steps to the right( as you face the water)
Fornillo Bech,a less -crowded option. on the pier there is a small street
( Via Positanedi d'America) near bar Covo dei Saraceni ( to the west) of themain beach ,is favored by residen,with more affordable chair/umbrella rentals.
It has a mellow Robinson Crusoe vibe,with a sturdySaracen tower Keeping watchg overhead.This beach has a few humble svack bars and lunch eateries.Note that its position,tucked back in the rocks,means it gets shade earlier in the day than the main beach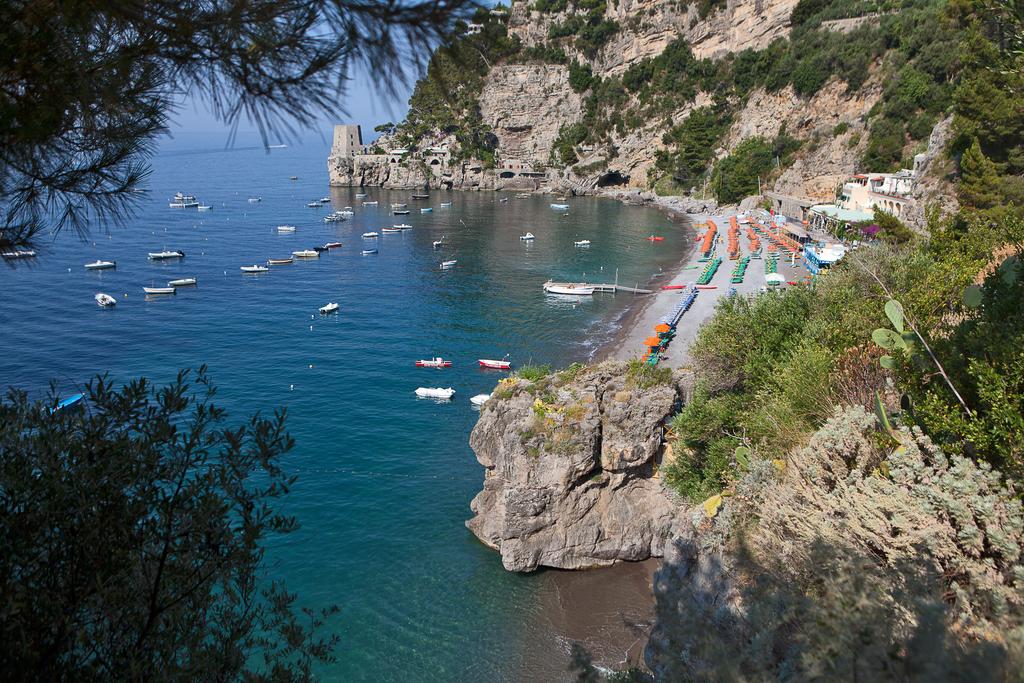 ARIENZO BEACH CLUB 
Positano Beach Club. Seafood, Fish Restaurant. Cocktail Bar. Amalfi Coast lifestyle.SHUTTLE BOAT SERVICE Morning: 10am – 1pm (every half an hour).Afternoon: 3.45pm until late afternoon

https://www.arienzobeachclub.com/
The Arienzo beach is often called the 300 steps beach, because of the impressive number of steps visitors need to climb down to reach it. On their way down towards the sea, holidaymakers can catch glimpses of the gardens of some of the Amalfi Coast's most luxurious villas, including one which once belonged to Franco Zeffirellli. Facing the south west, the beach enjoys the sun longer than any other in Positano. The beach is divided into private and free areas.
DA ADOLFO  RESTAURANT- BAR  BEACH ESTABLISHMENT   Positano's Laurito beach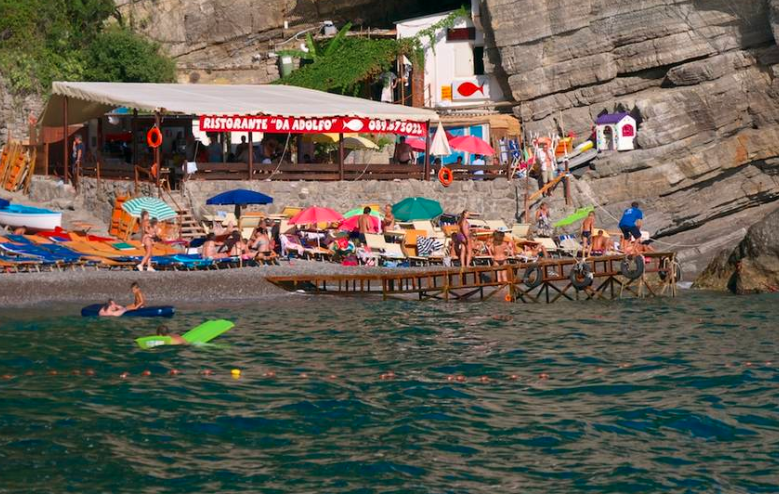 5 minutes from Positano by boat.The boat leaves the pier from 10 am (look the red fish) and returns from 4 pm on…The boat service is free of charge and reserved r restaurant and beach clients only.Other beach services include: Bathrooms, Change room, Shower.Positano's Laurito beach is a tiny little beach, which can reached via a flight of steps which starts in the small square opposite Hotel San Pietro. The name of the beach derives from the many laurels growing in the area. Laurito is divided into a free beach and a private beach, the latter belonging to a small hotel, and has two casual beach restaurants.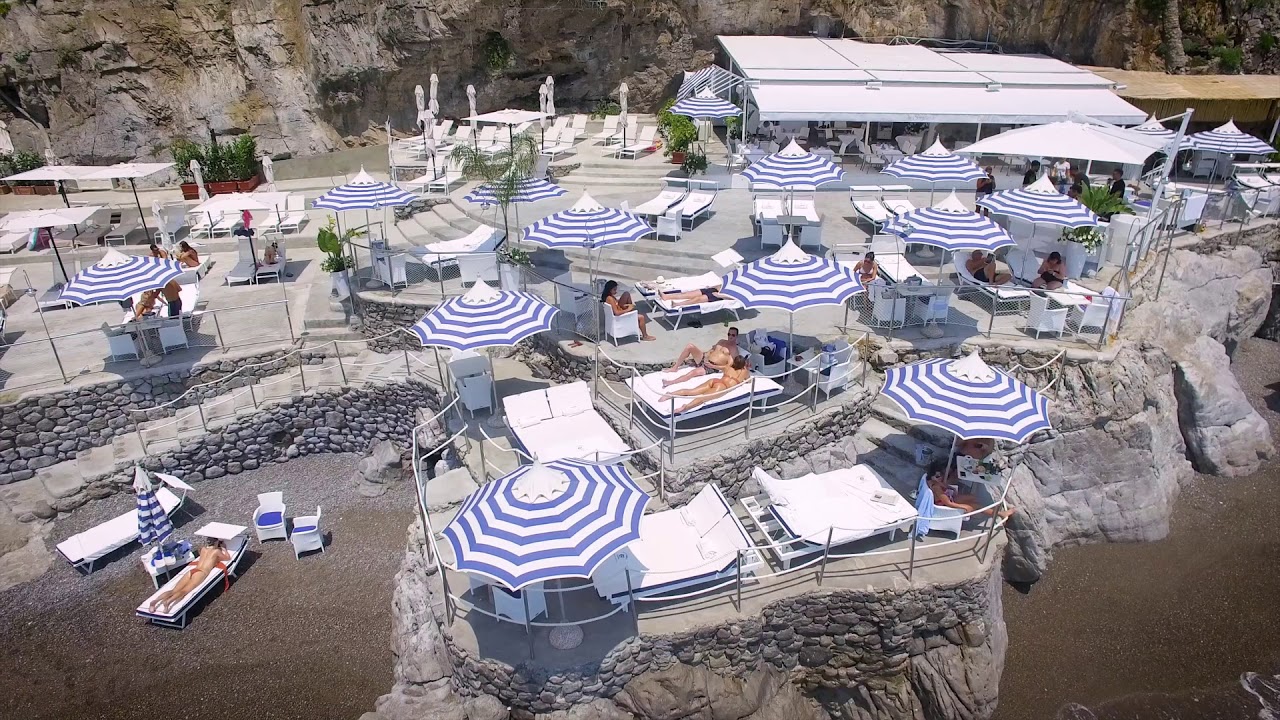 Beach LIncanto -Beach la Scogliera
A romantic corner in the Positano beach, with a wonderful view of the Amalfi Coast and the islands of Li Galli.
https://www.lincantopositano.com/
Town Hall -Via G.Marconi,111 tel +39 0898122511 fax +39 089811122 -www.comune di Positano.it
Local Tourist Office of Positano -Via del Saracino,4 Tel +39 089875067 Fax +39 089875760 www.aziendaturismopositano.it info@aziendaturismopositano.it
Carabinieri/Police -Via G.Marconi,111 tel +39 089875011
Municipal Police -Square Mulini tel +39 089875277
Firemen -Salerno tel 115
Red Cross -Viale Pasitea,246 tel +39 089 811912
Financial Police -Via G. Marconi tel +39 089 875129
Harbour Office -Via del Brigantino tel +39 089 875486
Post Office -Via G. Marconi,320 tel +39 089 875142
Deutsche Bank -Via C. Colombo,75 tel +39 089811066
Monte dei Paschi di Siena -Via dei Mulini,18/20 tel +39 089 812 2042
San Paolo Banco di Napoli -Square dei Mulini,18 tel +39 0898122367
Banca della Campania -Via C.Colombo,23/25 tel 07898123487
Pharmacies-Farmacia Rizzo Via Pasitea,22 tel +39 089875863
The weddings can be celebrated at the Town Hall of Positano from Monday to Saturday from 9,00 am to 23,00 pm
For information: +39 089 812 2527
Money Italy uses the euro currency:To convert prices in euros to dollars,add about 10 percent.The standard way for travelers to get euros is to withdraw money from ATMs ( which locals call a bancomat) using a debit or credit card,ideally with a Visa or MasterCard log.Before departing,call your bank or credit-card company:Confirm that your cards(s) will work overseas,ask about international transaction fees,and alert themthat you'll be making withdrawals in Europe.Also ask for the Pin number for your credit card in case it'll help you use Europe's chip-and PIN payament machines.

Dealing with CHIP AND PIN Much of Europe ( including Italy) is adopting a chip -and Pin system for credit cards,and some merchants rely on it exclusively.European chip-and -Pin cards are embedded with an electronic chip,in addition to the magnetic stripe used on your American -style cards.This means that your credit(and debit)card might no work at payment machines,such at those at train and subway stations,toll roads,parking garages,luggage lockers and gas pumps.Major US banks are chip-and-signature cards,for which your signature (not your PIN) verifies your identity.In Europe,these cards should work for live transactions and at most payment machines,but probabily won't work for offline transactions such as at unattended gas pumps.If a payment machine won't take your card,look for a machine that takes cash or see if there's a cashier nearby who can manually process your transaction.Often the easiest solution is to pay for your purchases with cash you've withdrawn from an ATM using your debit card(Europe's ATMs still accept magnetic -stripe cards).
Dynamic Currency Conversion If merchants or hoteliers offer to convert your purchase price into dollars ( called dynamic currency conversion,or DCC),refuse this service.You'll pay more in fees for the expensive convenience of seeing your charge in dollars.
If an ATM offers to lock in or guarantee your conversion rate,choose proceded without conversion.Other prompts might state,You can be charged in dollars:Press YES for dollars,NO for Euros.Always choose the local currency.
Staying Connected To call Italy from the US or Canada:Dial 011-39 followed by the local number.( The 011 is your international access code and 39 is our Italy's country code.)To call Italy from a European country Dial 00 -39 followed by the local number.( The 00 is Europe's international access code.)
To call within Italy Just dial the local number.To call from Italy to another country dial 00 followedby the country code(for example,1 for the US or Canada),then the area code an number.If you're calling European contries whose phone numbers begin with 0 you'll usually omit that 0when you dial.
Tips  Traveling with a mobile phone-whether an American one that works in Italy,or an European one you buy when you arrive-is handy,but can be pricey.Consider getting an international plan;most providers offer a global calling plan that cuts the per -minute cost of phone calls and texts,and a flat-fee data plan
Use Wi-Fi Most hotels,holiday houses and many cafe offer free Wi-Fi,and you'll likely also find it at tourist information offices,major museums,and public-transit hubs.With Wi-Fi you can use your smartphone to make free or inexpensive domestind international calls by taking advantage of a calling app such as Skipe,FaceTime,or Google +Hangouts.When you can't find Wwi-Fi,you can use your cellular network to connect yto the Internet, text,or make voice calls.When you're done,avoid further charges by manually switching off data roaming or cellular data.
It's possible to stay connected without a mobile phone.To make cheap international calls from any phone (even your hotel-room phone),you can buy an international phone card in Italy.These work with a scratch -to -reveral PIN code,allow you to call home to the US for pennies a minute,and also work for domestic calls.Calling from your hotel-room phone without using an international phone card is usually expensive.
Helpful Hints - Emercency Help
Help For English -speaking police help,dial 113
To summon an ambulance,call 118
If you have a minor illness,do as the locals do and go to a pharmacist for advice.Or ask at your hotel or to the owner of your holiday house for help-they'll know of the nearest medical and emergency services.
For the concerns,get advice from your hotelier or the owner of your vacation rental
For passaport problems,call the US Embassy ( in Rome,24-hour line-tel-06-46741) or US Consulates(Milan -tel.02-290-351,Florence-tel.055-266-951,Naples-tel.081-583-8111)or the Canadian Embassy(in Rome,tel.06-854-442-9119.
To replace a passport,you'll needd to go in person to an embassy or consulate.Canceland replace your credit and debit cards by calling these 24-hour US numbers collect:Visa - tel.303/967-1096 MasterCard-tel.636/722-7111,American Express -tel.336/393-111.In Italy,to make a collect call to the US,dial 800-172-444;press zero or stray on the line for an operator.File a police report either on the spot or within a day or two;you'll need it to submit an insurance claim for lost or stolen railpasses or electronics ,and it can help with replacing your passport or credit and debit cards.
Time Italy uses the 24-hour clock.It's the same through 12:00 noon,then keep going:13:00,14:00,and so on.Italy,like most of continental Europe,is six/nine hours ahead of the East/West Coasts of the US
Additional Resources
Tourist Information www.italia.it
Passports and Red Tape www.travel.state.gov
Aairplane Carry -on Restrictions www.tsa.gov
Cheap Flights www.kayak.com