Ravello

RAVELLO
At 350 m above sea level, where the sea meets the chestnut woods of Scala and Tramonti, this was a favoured destination for the nobles and wealthy merchants of Amalfi seeking repose, along with heads of state, churchmen, intellectuals, artists, poets, writers, and painters seeking inspiration. Ravello was the inspiration for Klingsor's magic garden from Wagner's Parsifal.
The meeting of an English lord and a Ravello tailor led to the creation of one of the marvels of the entire coast, the cliff-top Villa Cimbrone, with its terrace that drops away to the sea. Ravello's piazza is overlooked by the San Pantaleone cathedral, home to the relics of the saint and artistic treasures such as the bronze doors by Barisano Da Trani, the first to be cast in Italy by an Italian artist.
Villa Rufolo was built in 1280 by the Ravello family of the same name. The Rufolo family were bankers for King Charles of Anjou. The villa hosts summer concerts as part of the Ravello Festival.


The Amalfi coast's version of a hillk town,Ravello sits atop a lofty perch 1,000 feet above the sea.For sucha small town,it boats great sightseeing( an interesting church and two villas with stunning garden) and breath-taking view that have attracted celebrities for generations.Gore Vidal,Richard Wagner,D.H.Lawrence,M.C. Escher,Henry Wadsworth Longfellow,and Greta Garbo all have succumbed to Ravello's charms and called it home.The town is like a lush and peaceful garden floating,cafes,stones,old villas -turned -luxury hotels,and grand view.It's one big place to convalesce.Ravello can make for a half-day outing from Analfi,or a full day from Positano with a stop in Amalfi.The view from the bus ride up and back are every bit as stunning as those along the coastal route.
Ravello:it's located 7 km away from amalfi
Parking in Ravello
The best place to park in Ravello is the large lot beneath Piazza Duomo that costs EUR 2.50/hour or EUR 15/day.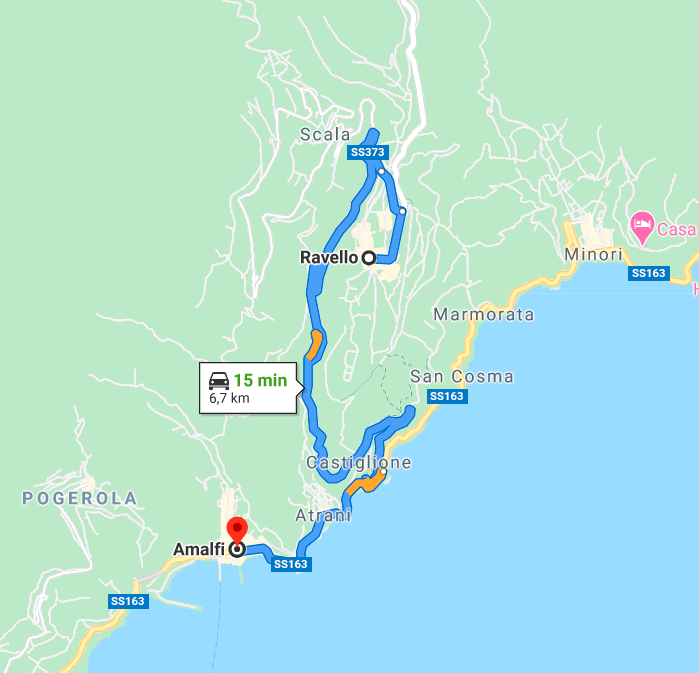 SIGHTS IN RAVELLO
To see the sights listed here ,start at the bus stop and walk trought the tunnel to the main square ,where you'll find the Villa Rufolo on the left,thje church on the right,and the TI down the street past the church ( TI open daily May-Oct 10:00 -18:00 ,closes earlieroff-season,100 yardsfrom the square-follow signs to Via Roma 18,tel +39 089 857 096, http://www.ravellotime.com/).Villa Cimbrone is a 10 -minute walk from the square( follow the signs). If you only have time for one villa,consider this: Villa Rufolo is easier to reach( facing the main square) and has a stunning terrace garden.Villa Cimbrone requiresan up -and-down hike,but it's bigger and more rugged,and offers even grander views in both directions along the coast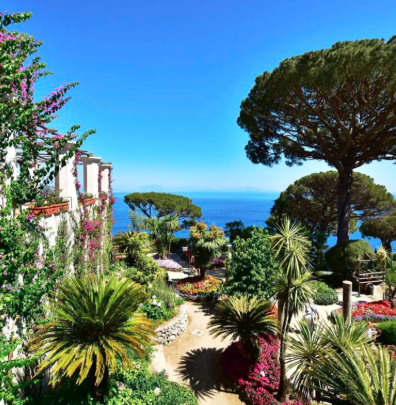 VILLA RUFOLO
The villa built in the 13th-century ruins of a noble family's palace,presents wistful gardens among stony walls,with oh-my-God views.The Arabic/Norman gardens seen designed to frame commanding coastline vistas ( you can enjoy the same view,without the entry fee,from the bus parking lot just below the villa ).It's also one of the venues for Ravello's annual arts festival 8 July -Sept http://www.ravellofestival.com/).and music society performances ( April -June and Sept-Oct,https://www.ravelloarts.org/).Musicians perch on a bandstand on the edge of the cliff for a combination of wonderful music and dizziying view. wagner visited here and was impressed enough to set the second act of this opera Parsifal in the villa's magical gardens.By all the concert on the cliff is a sublime experience.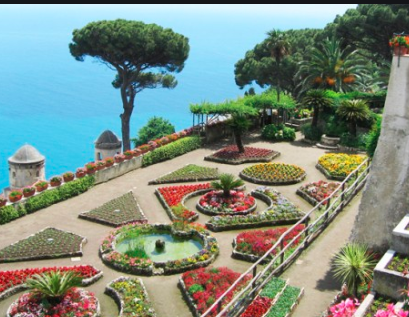 Cost and Hours: euro 5,daily May-Sept 9:00 -20:00,Oct -April 9:00 until sunset,may close earòlier for concerts,tel 089 857 621,
https://villarufolo.com/
Visiting the Villa:From Piazza Duomo ,you'll enter through the stout watchtower to buy your ticket,then walk trought part of the sprawling villa ruins.Finally you'll pop out at a viewpoint overlooking the neatly geometroical garden terrace,which you're welcome to climb down and explore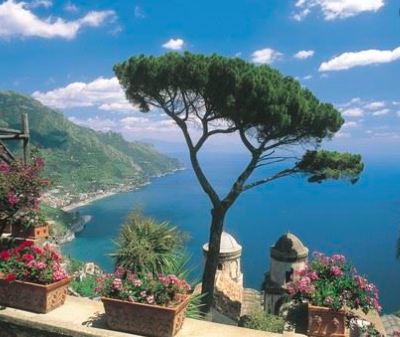 VILLA CIMBRONE
The villa provides another romantic garden,this one built upon the ruins of an old convent.Located at the opposite end of Ravello,it was created in the 20th century by Englishman William Beckett.His mansion is now a five-star hotel.It's a longish walk to the end of town,where you explore a bluff dreamily land scaped around the villa.At the far end,above a sublime cafe' on the lawn,the Terrace of Infinity dangles high above the sea.
Cost and Hours: euro 7,daily 9:00 -sunset,tel +39 089 857 459,https://www.hotelvillacimbrone.com/.
Getting there: Facing the cathedral on Piazza Duomo,exit the square to the right and follow signs.You'll climb up and down ( and up and down)some stair-step lanes,enjoying a quieter side of Ravello,before reaching the villa at the point.
Visiting the Villa: Buy your ticket and pick up the free map /guideof the garden.Across from the ticket booth,duck into the old monastery.Then passthe rose-garden terrace and head up the main boulevard,wich leads straigh to the stunning Terrace of Infinity,with 360-degree views up and down the coast.If you have the interest and energy,loop back along the more rugged down-slope ( facing the adjacent town of Scala).Tiny Lizards scurry underfoot ,while mythological statues( Mercury's Seat,Temple of Bacchus,Eve's Grotto) strike their poses before a stunning and serene backdrop.
HIKE TO AMALFI TOWN FROM VILLA CIMBRONE
Walk from Ravello to Amalfi- possible and worth it?
It's wonderful! - pick up the excellent free hiking map from the tourist office in Ravello.
Ravello-Atrani-Amalfi route : you don't have to go on the road at all - pedestrian streets through Ravello to just short of the Cimbrone, clear wide path (with many steps) down to Atrani, pedestrian streets to Amalfi. The views are amazing and the whole experience is awesome.

To walk downhill from Ravello's Villa Cimbrone to the town of Amalfi ( a path for hardy hikers only-follow the TI'map),retrace your steps back toward town.Take the first left,wich turns into a stepped path winding its way below the cliff.Pause here to look back up at the rock with a big white mansion -Villa la Rondinaia,where Gore Vidal lived for many years.Continue down the fairly steep path about 40 minutesto the town of Atrani ,where several bars on the main square offer-well-deserved refreshment.From here,it's about a 15 minute walk back to Amalfi
EATING IN RAVELLO
In Town:Several no-brainer,interchangeable restaurants face Piazza Duomo and line the surrondind strets.To enjoy this fine setting,just take your pick.You can also grab a takeaway lunch at one of the little grocieres and sandwich shops that line Via Roma ( between Piazza Duomo and the TI)enjoy your meal at the panoramic benches at the far end Piazza Duomo (facing the cathedral),or facing even better views just outside of town,near the bus stop and Ristorante da Salvatore.(Picnicking isn't allowed inside the two villas.) Just Outside of Town ,with stunning Views:Ristorante da Salvatore serves a serious-sit-down lunch that takes full advantage of the views that make a trip to Ravello worthwhile.Pino,the English -speaking owner of this formal restaurant,serves nicely presented,traditional Amalfi cucine from a fun ,if pricey,menu.Be,adventurous when ordering and share dishes. ( euro 13-18 pastas,euro 16-19 secondi,Tue-Sun 12:30 -15:00 & 19:30-22:00,closed Mon,located where buses and taxis drop those visiting town,Via della Repubblica 2,tel +39 089 857227,reservations smart).
Where to Eat for Less in Ravello
This picturesque spot, famous for its music festival, is home to Villa Cimbrone and Villa Rufolo, where the world-class Ravello Festival is held each year. If you are visiting this small gem on the Amalfi Coast, where can your eat on a budget?If you're pressed for time and want a cheap meal in Ravello, you can always opt for a sandwich.
Il Panino: Sandwich Shop and Café
Want a quick but delicious sandwich in Ravello? Stop at Il Panino, the sandwich shop in Piazza Duomo just steps from Villa Rufolo. If you're not in too much of a rush, sit down to enjoy the beauty of the town's architecture and watch the streams of visitors stroll by. The sandwiches are excellent, made with fresh ingredients and warm bread. There is no cover charge for table seating.Our suggestions: sandwich with pancetta and provola or with eggplant and mushrooms.Prezzo:​ dai 5 ai 7 euro circa.
https://www.facebook.com/ilpaninosnc/
Locanda Moresca: A Real Meal
If you're looking for a low-cost meal in Ravello, look no further than Locanda Moresca. This small restaurant is located on the medieval Piazza Fontana Moresca and serves lunch and dinner. Menus highlight traditional dishes, served in a romantic atmosphere and based on classic recipes from the Amalfi Coast prepared with a touch of contemporary style
Our suggestions: simple seafood or meat dishes made with healthy, natural ingredients.
Insider tip:Be sure to try their fried specialties; potato gnocchetti with peppers, clams, and cherry tomatoes; tagliata steak with arugula and parmesan cheese; and cod. The desserts and wines are also delightful.Prices​: from EUR 12 to 20.
https://www.lamorescaravello.com/it/locanda
Now you know where to dine on a budget on Italy's Amalfi Coast, with our guide to inexpensive restaurants
RAVELLO CONNECTIONS
Ravello and the town of Amalfi are connected by road SS.163 and a sita bus.Coming from Amalfi town,buy your ticket at the bar on the waterfront,The sita bus stop just across
RETURN TO AMALFI- In Ravello ,line up early,since the buses are often crowded ( at least every 40 ,minutes,30 -minute trip,euro 1,20,buy ticket in tobacco shop;catch bus 100 yards off main square,at other end of tunnel).You can also reach Ravello from Naples via Salerno.Take the train from Naples to Salerno ( 2 hour,35-6-0 minutes) ,and then go by bus or Ferry to Amalfi town,where you can catch the bus to Ravello described above.Salerno's TI has bus,ferry,and train schedules
Due to the Covid-19 emergency, many routes have been suspended until 4 May, 2020.
« Read other articles