Sorrento
Wedged on a ledge under the mountains and over the Mediterranean,spritzed by lemon and olive groves.Sorrento is an attractive resort of 20,000 resident and in summer,just as many tourists.It's as well-located for regional sightseeing as it is a fine place to stay and stroll.The Sorrentineshave gone out of their way to create a completely safe and relaxed place four tourists to come and spend money.As 90 percent of the town's economy is tourism,everyone seems to speak fluent English and work for the Chamber of commerce.
This gateway to the Amalfi Coast has an unspoiled old quarter,a lively shopping streetand a spectacular cliffside setting. Residents are proud of the many world -class romantics who've vacationed heresuch as famed tenor Enrico Caruso,who chose Sorrento as th eplace to spend his last weeks in 1921.
Sorrento itself has no world -class sights,but can easily give you a few pleasant hours..More important,Sorrento is a fine base for visiting Naples ( by boat or train );PompeiiHerculaneum,and Mount Vesuvius( by train,plus a bus for Vesuvius );the Amalfi Coast ( by bus );and the island of Capri ( by boat).All of these destinations are within and hour or so of Sorrento.Of the region's attractions,only Paestum's Greek temples are a little hard to reach from Sorrento,and even they can be seen in a long day.
Orientation to Sorrento
Downtown Sorrento is long and narrow.Piazza Tasso marks the town's center.The congested main drag.Corso Italia,runs parallel to the sea,passing 50 yards below the train station,trought Piazza Tasso,and then out toward the cape,where the road's name becomes Via Capo.Nearly everything mentioned here (except Meta beach and the hotels in Via Capo ) is within a 10 -minutewalk of the station.The town is perched on a cliff ( some hotels have elevator down to sunddecks on the water ); the best real beaches are a couple of miles away.Sorrento has two separate port areas:The Marina Piccola below Piazza Tasso,is a functional harbor with boats to mNaples and Capri,as well as cruise-ship tenders.( While the big cruise ships dock in Naples,smaller ships drop anchor at Sorrento.) The Marina Grande,below the other end of downtown,is alittle fishing villagewith recommended restaurants and more charm.
Tourist Information
The helpful regional TI ( labeled Azienda di Soggiorno ) -located inside the Foreigners' Club hands out the free monthly Surrentum magazine,with a great city map and schedules of boats,buses,concerts,and festivals ( Mon-Fri 8:30 -19:00,Sat -Sun 9:00 -13:00 except closed Sun Oct -May; Via luigi de Maio 35
 tel. 081-807-4033 ,Nino ,Fabiola,and Peppe).If you arrive after the TI close,look for their useful handouts in the lobby of the Foreigners'Club ( open until midnight).
You'll also find several small "Info Points" conveniently located around town.These hand out map and Surrentum magazine,and can answer basic question.You'll find one just outside the vtrain station in the green cabose ( daily 10:00 -13:00 & 15:00 - 19:00 ); near Piazza Tasso at the corner of via Correale ( under the yellow church,daily 10:00 -13:00 & 16:00 -21:00 ) ;at Marina Piccoila where cruise ship tenders and boats from Naples arrive  ( daily 9:00 -17:00,but closed Nov-March);and the Achille Lauro parking garage.
Arrival in Sorrento
By train or bus Sorrento is the last stop on the Circumvesuviana train line.In front of the train station is the town's main bus stop,as well as taxis waiting to overcharge you ( E 15 minimum).All recommended hotels except those on Via Capo are within a 10 minute walk
By Boat Passanger boats and cruise tenders dock at Marina Piccola.As you walk toward town from the marina go up the big staircase where the pier bends.
Standing on the promenade and facing town,you'll see a TI Kiosk and ticket windows for boats to Capri and Naples in the lower area to your left;the bus stop directly ahead;and the elevator up to town to the right,about a five -minute walk along the the base of the cliff( Euro 1,follow lift/ascensore signs.)The bus is the easiest option,since is takes you directly to Piazza Tasso in the middle of town.
Just catch the next bus ( either the city bus,buy ticket before boarding at the nearby ticket window;or the private gray bus,buy ticket on board;either way,the ride cost Euro 1.20 and takes just a few minutes;buses generally depart a least every 20 minutes).
If you ride the elevator up to the Villa Comunale city park,exit through th epark gate and bear left;PiazzaTasso is about four blocks away.
By car If you are arriving in Sorrento by car, remember that the historic center of town is closed to traffic each evening after 7:30 pm and all day Sunday. The parking options listed below are always accessible, even when the downtown is closed to motor vehicles.
Street Parking
Here are the few places you can find free street parking, marked in white paint:
Via Rota (quite far from the center)
Via Parsano (just steps from Corso Italia)
In the rest of the town center, parking is marked in blue paint, which means that you must pay. There are parking meters near the parking spaces where you can insert coins to pay for a set time period; take the printed ticket with the end time of your paid parking period from the meter and display it on your dashboard.
Blue Paid Public Parking Costs
30 minutes: EUR 1
1 hour and each subsequent hour: EUR 2
Parking Lots and Garages
Parcheggio Achille Lauro (Correale)
Via Correale 23
Located in the central Piazza Lauro, this covered parking garage has a few hundred spots.
EUR 2/hour (or fraction of an hour). Free for less than 30 minutes.
Daily rate: EUR 24
Parcheggio Vallone dei Mulini
Via Fuorimura 16
Located past Piazza Tasso, the main square in Sorrento, this covered parking garage is guarded by a system of security cameras.
EUR 2.50/hour (or fraction of an hour) from 6 am to 10 pm; after 10 pm, EUR 4.50/hour.
Daily rate: EUR 27 with discounts for multiple day stays.
Parcheggio Stinga
Via degli Aranci 17
This private, guarded parking lot is open-air and located along Via degli Aranci (near the Pretura). Take Via Sersale from here to reach Corso Italia in minutes.
EUR 2/hour (or fraction of an hour)
Parcheggio Marina Piccola
The "Marina Piccola" guarded garage is located at the port, and is perfect for those taking the ferry to Capri.
Prices vary according to the size of the vehicle, but for a medium-sized car:
First 6 hours: EUR 22
First 12 hours: EUR 26
24 hours: EUR 32
Discounts available for online reservations.
Other parking lots are the Ulysse (at the beginning of the road to Marina Grande) and Central Parking on Corso Italia just outside the center of town, which offers a shuttle service to the port.
Church Services The Cathedral hosts an English-language Anglican service at 17:00 most Sundays from April to October ( but not in August).At Santa Maria delle Grazie (perhaps the most beautiful Baroque church in town),cloistered nuns sing from above and out sight during a Mass eaches morningat 7:30 (on via dele Graziee
Bookstore Libreria Tasso has a decent selection of books in English,includind this one ( daily 9:30 -23:00,shorter hours Oct-March,Via San Cesareo 96,one block north of cathedral,near Sorrento Men's Club,tel.081-807-1639).
Laundry Sorrento has two handy self -service launderettes( about Euro 8/load wash and dry,includes soap;both open daiòy 7:00 -24:00,shorter hours off-season).One launderette just in the old center just down the alley next Corso Italia 30 ( Vico I Fuoro 3,mobile 338-506-0942).The other is a couple of long blocks past the station ,at the corner of Corso Italia and Via degli Aranci.
Dining on a Budget in Sorrento
Sorrento: Where to Have Lunch
First you'll want to spend a few hours visiting Sorrento, which is an excellent idea as this resort town is perfectly positioned to then set off and explore the Amalfi Coast. There is both beautiful scenery and historic monuments to take in, and the center of town is thick with restaurants, take-away delis, and bars that are both inexpensive and good quality. Here's where to eat in Sorrento without breaking the bank, and without wasting precious touring time.
Inexpensive Pizza in Sorrento
The best way to eat well for less in Sorrento is by choosing pizza, and southern Italy's iconic Margherita never gets old. Our favorites:
Il Leone Rosso​: located on Via Marziale near Corso Italia in the center of town, just a few minutes from the Circumvesuviana station. There is a wide variety of pizzas from the classic Margherita to dessert pizza with Nutella. In addition, clients are given a warm focaccia as a welcome and a glass of traditional limoncello to end the meal.Prices: between EUR 10 and 20.
https://www.illeonerosso.it/
Da Franco
This pizzeria in Sorrento is an institution. Located just a few steps from Piazza Lauro in the heart of the city the dining room is very old-style with wooden tables and prosciutto hams hanging fro the ceiling. The cutlery and plates are plastic, and service is quick. Though the vibe may be bare-bones, the rich flavors and aromas more than make up for it.
Our suggestions: try the prosciutto crudo (Parma or San Daniele) served sliced with fiordilatte di Agerola mozzarella cheese and grilled smoked scamorza cheese with black olives and chili pepper. Don't leave without sampling the "pizza al metro", or pizza by the meter, served with a number of toppings and surprisingly light. This restaurant is a great choice for large families.Prices:​ from around EUR 18.
https://www.facebook.com/daFrancopizzeriasorrento/
Trattoria Chantecler on Via Santa Maria della Pietà that runs parallel Corso Italia in the town center. Homestyle cooking, with flavorful dishes and large portions...all at a great price. The décor is rustic and service is fast. There are also outdoor tables set up along the pedestrian lane that is very quiet for those who want to dine al fresco.Our suggestions: eggplant parmesan, lasagna, and fish, usually very fresh.Insider tip Avoid dining here on Sundays, when the restaurant can be packed.If you're in a hurry, they also offer take away meals. Prices​: from EUR 6 to 20.
La Cantinaccia del Popolo is where you can dine in Sorrento for very little while feeling like part of the family. The restaurant is located just steps from Corso Italia, and the décor is traditional and simple, but the dishes are generously portioned and deliciously prepared with excellent quality ingredients. If you want to try classic recipes from the Sorrentine Peninsula, this is the right spot. The restaurant also produces its own wine and liqueurs.Our suggestions: the prosciutto and cheese antipasto, as well as the meat dishes.Prices​: from EUR 5 to 30.
https://www.facebook.com/La-Cantinaccia-Del-Popolo-492154434283499/
For sweets like gelato, crepes, and frozen yogurt, try the gelateria Davide Augusto​, a family-run gelateria with a large assortment of flavors from the classic seasonal fruits (strawberry, peach, cherry, and melon) to local specialties like Sorrento lemon, Giffoni hazelnut, and Bronte pistachio. If you are looking for something new to try, order a savory gelato made with milk and cream mixed with vegetable or cheese and topped with fresh fruit. They also serve crepes, frozen yogurt, and Belgian waffles. All this just a few minutes from the Circumvesuviana and Corso Italia.Price per gelato​: from EUR 2.50.Where We Are Via Marziale, 19 Sorrento  Ph: +39 081 807 36 49-Ph: +39 338 365 06 99 info@gelateriadavidsorrento.it-We Are Open All Week
08.00 am - 01.00 am
http://www.gelateriadavidsorrento.it/en/gelateria.php
If you would like a quick, savory snack, stop for a sandwich in Sorrento at A'Marenna
This tiny spot on Piazza Tasso in the center of Sorrento is easy to spot, with its window crowded with delicacies, its food cart, and its contagious lively vibe. The sandwiches are delicious, made with quality ingredients and not too heavy. They also prepare classic hot dogs, gourmet sandwiches, and vegetarian options. There is a wide variety of choices and you can tuck in to your sandwich on the go while you decide what to see in Sorrento.
Prices​: from EUR 4. Via Torquato Tasso, 23, 80067 Sorrento phone-081 1849 5183
https://www.facebook.com/amarennasorrento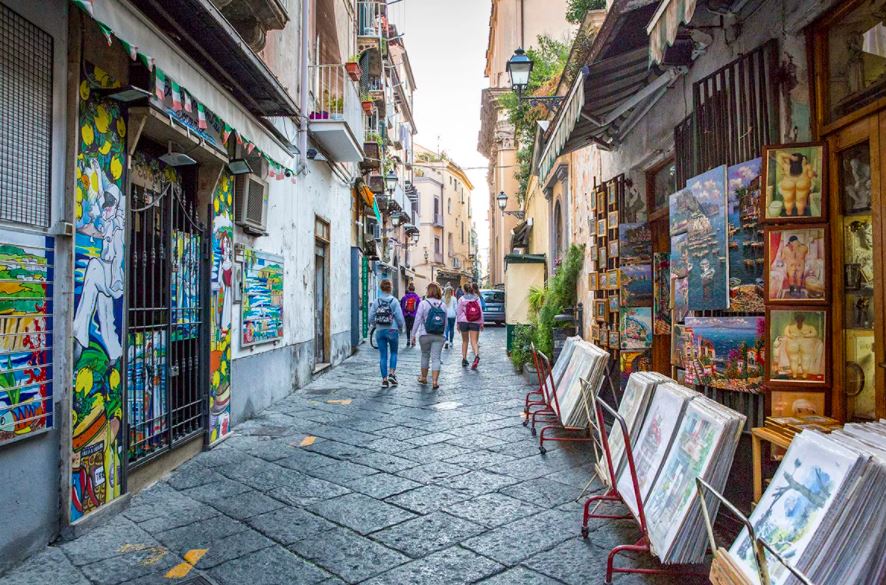 Sorrento Historical Center
The center of Sorrento winds along the axle delimited from Via Pietà, Via San Cesareo, Via Padre Reginaldo Giuliani and Via Tasso.
The historical Sorrento center holds Palazzo Veniero, Palazzo Correale with its tiled with majolica dated from 1700 courtyard, the historical seats of Porta and Dominova, place appointed to the Sorrento nobility meetings, and the MuseoBottega of the Wood Inlaying, which keeps the ancienttradition of the Sorrento wood inlay.
Among the religious works to be admired in the Sorrento centre, the Cathedral with its inlaid wooden choir, the St. Antony Basilicaand the St. Francis Complex, of which famous is the Cloister, medieval building with fourteenth-century arcs, where every yearhundreds of Italian and foreigners marriages take place.
After having dedicated part of the tour to architecture the remainder of it will be pleasant strolls through Sorrento's historical alleys filled with shops and typical Sorrento artisanship workshops, where one can admire the inlaid woodwork furniture or where to learn and taste our local produce such as our typical Lemon liquor, the Limoncello of Sorrento.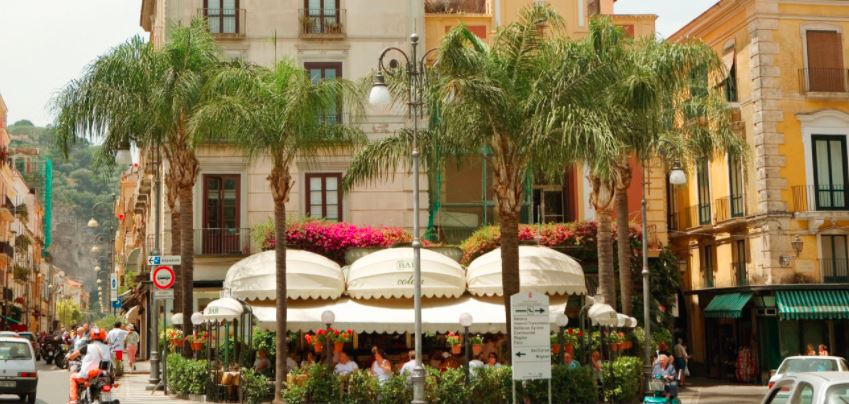 Piazza Torquato Tasso
As Sorrento's main square, Piazza Torquato Tasso is where you can get a first impression of the city's downtown scene. The square is small and lies at the junction of several main streets, with plenty of bars and cafes along the sidewalks. It's usually bustling day and night with its steady flow of traffic and pedestrians. A notable landmark worth seeing is the baroque church of Santuario del Carmine, with the relaxing street-side patio of Bar del Carmine a great spot for a coffee and a bit of people watching.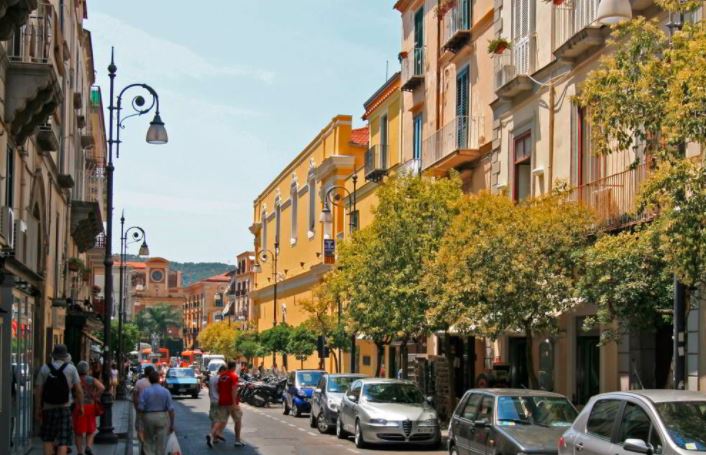 Corso Italia  Sorrento's main walking street has loads of quality souvenirs
Head east from Piazza Tasso and you'll find Corso Italia, downtown Sorrento's main shopping street. The neatly paved sidewalks are shaded by tall trees down this otherwise traffic-packed route. You'll pass various shops at the base of tall historical 5-storey buildings, ranging from souvenir kiosks, mini supermarkets to designer boutiques (though the variety is limited compared to Italy's fashion capitals such as Rome or Milan). Some of Sorrento's favourite city hotels, such as the Hotel Sorrento City and Hotel Michelangelo, also share the length of this road. Be careful during the summertime as the street can get hectic with zipping scooters.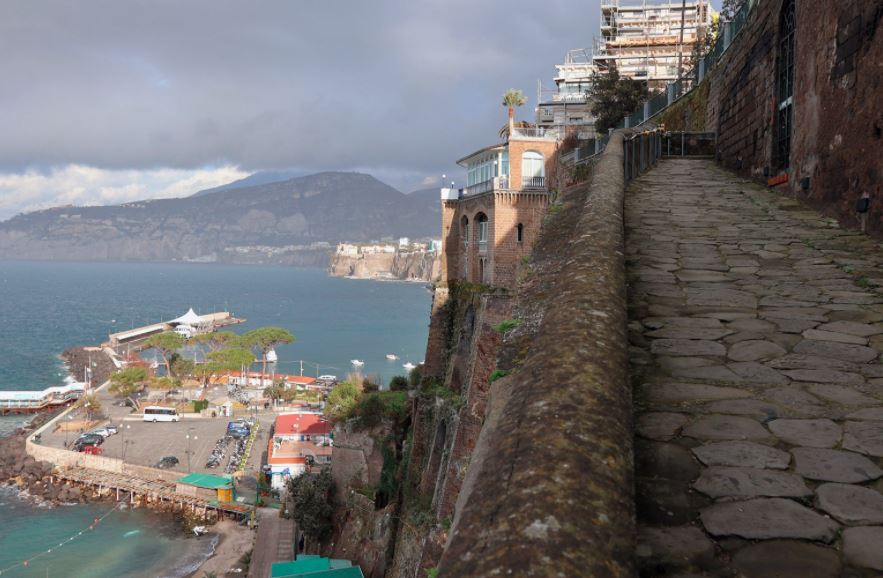 Villa Comunale
Take a detour off Piazza Tasso, northwards along Via Luigi de Maio and Via San Francesco, and you'll eventually reach Sorrento's scenic coastline. Among the best spots to visit here is Villa Comunale. It's a vast green and tree-shaded public space by the bay that's adorned with sculptures and fountains. It's also where you can get sweeping seascapes with the silhouettes of Mount Vesuvius in the background. You can take the "beach lift" to the harbour area below the cliff for around €2.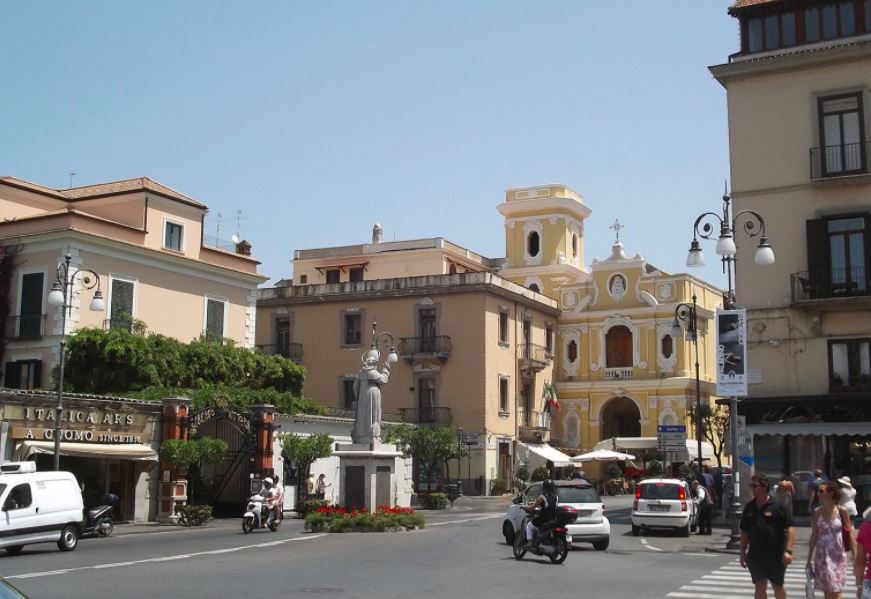 St. Anthony's Basilica
As one of Sorrento's lovely piazzas, Piazza Sant'Antonino is home to the basilica of the same name. The piazza's a short walk north of Piazza Tasso along Via Luigi de Maio, but the traffic isn't as hectic. St. Anthony's Basilica looks over the piazza with its unassuming façade. But step inside (access is free), and you'll find a beautiful baroque interior with frescoes and various sculptures depicting St. Anthony's legend of him rescuing of a child from a whale off the coast of Sorrento. 
Location: Via San Maria Grazie, 6, Sorrento, Italy
Open: Daily from 7 am to 12 pm and 5 pm to 7 pm
Phone: +39 (0)81 877 1007
« Read other articles