Vesuvius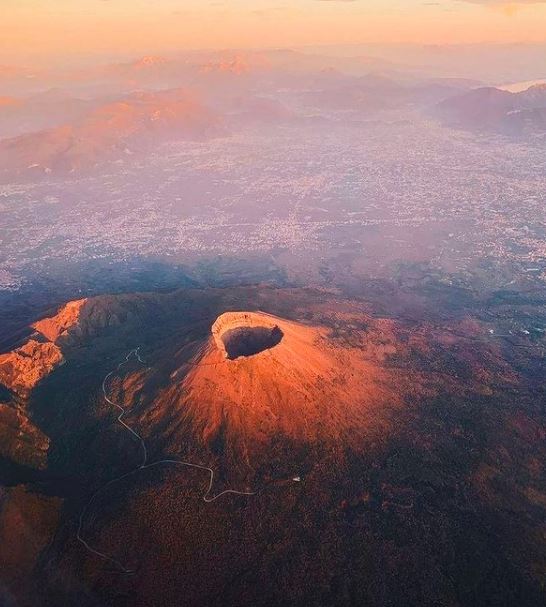 Driving along the sorrento coast to mount vesuvius crater and enjoy the breathtaking views over the bay of Naples at 1050 meters in above sea level is wonderful.
After Vesuvius your energy is restored with lunch in in one of the many restaurants along the road
Revitalised,you continue to the incredible archaeological site of Pompei for 2 hours informative guided tour paying  attention to all the main highlights
The 4,000 -foot-high Vesuvius,mainland Europe,s only active volcanohas been sleeping restessly since 1944.While Europe has other dangerous volcanoes,only Vesuvius sits in the middle of a Three -million-person metropolitan area that would be impossible to evacuate quickly.Many tourist don't know that you can easily visit the summit.Up topit's desolate and lunar-like,and the rocks are newly created.Walk the entire accessible part of the crater lip for the most interesting views;the far end overlooks Pompeii.Be still.Listen to the wind and the occasional cascades of rocks tumbling into the crater.Any steam?Vesuius is closed to visitors when erupting.
Getting to Vesuvius from Positano by train and sita bus
By sita bus: From Positano you will need to travel first to the town of Sorrento by sita bus and then take circumvesuviana train to reach vesuvio. Get off at the Ercolano Scavi or Pompei Villa dei Misteri station.I advise you to get off the train in Pompei Villa dei Misteri station.
The Tramvia Vesuvio tourist shuttles leave from the Pompeii stop, in the square in front of the station, or you can continue by taxi
By taxi,or private car.No matter how you travel up,you'll land at the parkin lot.
By private car: once highway exit in Ercolano you must enter Via Cupa Monti, then at the roundabout take the third exit and stay on via Cupa Monti. At the new roundabout take the second exit, always to stay on the same street. At this point, it is necessary to continue on via Vesuvio up to Contrada Osservatorio and continue following the signs up to the Vesuvius National Park.If instead you highway exit at the Torre del Greco proceed on the Strada Statale 18 Tirrena Inferiore / SR18 towards via Traversa I Vittorio Veneto and continue on via G. Marconi, continue on via Enrico De Nicola and then on via Vesuvio. At the roundabout, take the first exit and continue towards Contrada Osservatorio following the signs for Vesuvius.
« Read other articles