Naples
Getting to the Amalfi Coast from airport of capodichino Naples by circumvesuviana train or Curreri bus
Naples Capodichino Airport
Here below you find a list of useful numbers in case of baggage loss
+39 081 7896118  - +39 081 7896540  -199 280180  -+39 081 7896766 - + 39 081 7896765
lost&found@ghnapoli.it     infobag@as-airport.it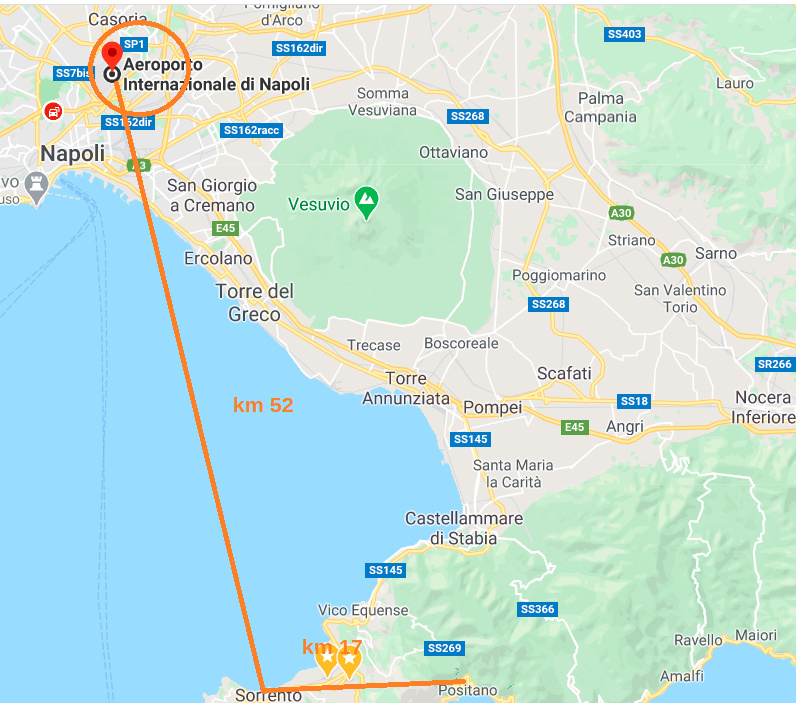 Naples International Airport Capodichino is located 7 Km northeast of the city centre ,is southern Italy's main airport It's served by a number of major airlines and low cost carriers,including easy Jet ,which operates flights to Naples from London.Paris,Berlin and several other European cities
( tel.081-789.6111 for operator,tel.081-848-888-777 for info,handy info desk just outside baggage claim,https://www.aeroportodinapoli.it/ Naples is southern Italy's main rail hub.Most national trains arrive at or depart from Stazione Centrale.-Tel 081-554-31-88 :piazza Garibaldi 
or underneath the main station ,from stazione Garibaldi.Some services also stop at Mergellina station National rail company trenitalia Tel 802021:https://www.trenitalia.com//) runs regular services to Rome  2nd class euro 12 to euro 43.High -speed private rail company Italo tel 06-07-08 https://www.italotreno.it/it
also runs daily services to Rome (2nd class euro 15 to 39,70 minutes ,up to 15 daily ).not all Italo Services stop at Rome Termini with many stopping at Roma Tiburtina instead Circumvesuviana Tel 800 211 388 ww.eavsrl.it) operates frequent train services Napoli to Sorrento - euro 4,50, time 66 minutes
From the Capodichino Airport in Naples you can either catch a bus that takes you to sorrento - There are buses for Sorrento at the times:9,00,11,30 13,00 14,30 16,30,and 19,30  please note: schedule is subject to change without notice;please check https://www.curreriviaggi.it/ for any changes -Curreri bus stop outside Terminal 1 Tickets cost about €10
or catch a bus or taxi for the train station in downtown Naples ( Piazza Garibaldi ) .Alibus bus stop outside Terminal 1 Tickets cost about €4 and can be purchased directly from the driver.
Inside the Station Piazza Garibaldi in Naples down below and take the Circumvesuviana train to Sorrento the trip takes one hour ( there are two types of tickets: the ticket for a single ride and the integrated ticket (TIC) also applies to bus and subway. If you plan to take other means of transport that ask at the ticket office.
The travel time between Naples and Sorrento is 1 hour and 10 minutes. The trains marked with the initials DD does not stop at all stations and arrive in Sorrento in 50 minutes.
The ticket from Naples to Sorrento currently costs 3 Euros and 90.
Sorrento is the last stop on the line.
The Circumvesuviana of Naples Piazza Garibaldi station is located on the lower level of the station, below the one where the high-speed trains arrive.
The Sorrento trains generally depart from platform 3, to access this binary there are no escalators or elevators. Attention to the message on the display that announce the incoming train to be sure to take the train to Sorrento, or else you risk finding yourself in Sarno! ( single-track line ) At Sorrento station you will find instead the elevator. The station is at the center of Sorrento.be careful on the train circumvesuviana in the trait Napoli - Pompei there may be pickpockets.Put the cell phone and the money in the pocket in front and keep the bag always close to you In Sorrento outside the circumvesuviana station you can catch a bus for Amalfi,you will be able to board the bus at the train station .You can buy bus tickets at most newsstand and, Tabacchi Stores, unless you already hold a valid ticket from your earlier trip.Visit http://www.unicocampania.it/ ( you can not buy the ticket on the sita bus, without a ticket you will takes a fine of 100 Euros) On the bus,ask the driver to stop you at Bar Internazionale in Positano.The first stop in Positano CHIESA NUOVA  ( In Italiano.Per piacere,puo' farci scendere alla prima fermata di Positano Chiesa Nuova VICINO AL BAR NTERNAZIONALE)
 Please,can you let us get off at the first stop in Positano Chiesa Nuova close internazionale bar )                                      
From Naples Airport to Naples harbor (Beverello): Shuttle service leaves every 10 minutes ( Alibus shuttle buses zip you from the airport to Naples
Centrale train station/Piazza Garibaldi in 10 minutes,and then head to the port/Piazza Municipio for ferry to Capri , Sorrento and Positano( buses run daily 6,30-24,00 ) 
From Naples harbor in Positano, with stops in Capri: Search times on site Alilauro e Caremar; trying to combine with arrival and departure. Definitely not an inexpensive solution, total costs may reach around 40/50 € per person.
Due to the Covid-19 emergency, many routes have been suspended until 4 May, 2020.
https://shop.caremar.it/it/  https://www.travelmar.it/en/index  ( call center + 39 089 87 29 50 ) 
http://www.alilauro.it/orari-e-tariffe  https://www.lucibello.it/en/positano-jet
NAPLES -POSITANO AND PRAIANO SHUTTLE BUS PRIVATE SERVICE WITH CAR SHARING SYSTEM
https://www.positanoshuttle.com/
You will enjoy the ride from Naples Airport or Central Train Station(Piazza Garibaldi) to your accommodation in Positano or Praiano.
Rome Fiumicino or Rome Termini station to Positano or Praiano shuttle bus
Naples airport to POSITANO, shared transfer
 Getting to the Amalfi Coast from From  Rome Fiumicino Airport
From the airport, take the Leonardo Express shuttle train to the city's main Roma Termini railway station.You ca buy Train tickets from Rome to Naples in the station (at the ticket office or from the automatic dispensers) or online using   https://www.trenitalia.com/   
Reach the Rome city centre easily from Fiumicino Airport using Trenitalia railway services.
From the railway station, located inside the airport area close to the arrival and departure terminals, you can reach the city centre using the numerous and frequent Trenitalia connections:
· The Leonardo express, non-stop service dedicated exclusively to airport passengers to/from Roma Termini with departures every 15 minutes and travel time of 32 minutes*
From the Rome Fiumicino airport you can also take a direct bus to Piazza Garibaldi in Naples  https://fiumicinoexpress.rezdy.com/
An Alternative: Continue on to Salerno
The Freccia Rossa TAV trains go as far as Salerno. You can get off there and take the bus to Amalfi or one of the ferries to Amalfi and Positano. The Molo Concordia pier is located directly opposite the train station in Salerno, so is the easiest to reach. The Molo Manfredi pier is located a few kilometers from the station, so you will need to hire a taxi.Salerno's TI has bus,ferry,and train schedules
Naples
Italy's third largest city is one of it oldest,most artistic and most delicious.Naples'centro storico ( historic centre ) is a Unesco World Heritage Site,its archaeological treasures are among the world's most impressive,and its palaces,castels and churches make Rome look positively provincial.
Then there's the food.Blessed with rich volcanic soils,a beautiful sea,and centuries of culinary Know -how ,The Naples region is one of Italy 's epicurean heavyweights,,serving up the country's best pizza,pasta and coffee,and many of its most celebrated seafood dishes,street snacks and sweet treats.
Public Transport
If travelling on pubblic transport in Naples and Campania ,you will most likely be using ticket Integrato Campania ( TIC ) tickets.readily available from newspaper Kiosk and tabaccaio ( tobacconist ),these integred tickets are valid on bus,tram,funicular,metro and suburban train services in Naples.They are also valid on regional Circumvesuviana and Cumana trains,as well as on EAV and Sita sud buses across campania.they are not valid on ferry and hydrofoil services.Ticket types and prices vary depending on where you want to travel.
The cheapest option is a corsa semplice( one trip )ticket,valid for one trip whitin on travel zone only.The biglietto orario ( multi - trip- ticket ) allows for multiple trips within a specicified time period and across any number of zones.
Daily and multi -day ticket are also available in some areas prices listed in the chapter are generally for biglietto orario tickets
the TIC website https://www.facebook.com/pg/TIC-Ticket-Integrato-Campania-728099030601605/posts/ ) offers a handy ticket calculator covering the entire Campania region:simply click Trova la tariffa ,type in the town of your departur in the Da box and your destination in the A box,then click Cerca
the ticket aside,many of the region's transport companies offer their own tickets,for use on their own services only.
For example,ANM -which runs Naples'city buses ,the four funiculars,and metro lines 1 and 6 -offers a euro 1 single - use ticket.State railway company Ferrovie dello Stato ( FS ) runs the city 's metro line 2,offering a euro 1,20 single - use ticket for use on that metro line.
In Naples,city buses are operated by ANM TEL. 800 639525  http://www.anm.it/ .there's no central bus station,but most buses pass trought Piazza Garibaldi.
Funicular
three of Naples' funicular railways connect the centre with Vomero ( the fourth,Funiculare di Mergellina,connects the waterfront at Via Mergellina with Via Manzoni).
Funiculare Centrale
Ascends from Via Toledo to Piazza Fuga.
Funiculare di Chiaia
From Via del Parco Margherita to Via Domenico Cimarosa.
Funiculare di Montesanto
from Piazza Montesanto Via Raffaele Morghen.
Line 1 runs from Garibaldi ( StazioneCentrale ) to Vomero and thre northern suburbs via the city centre.Useful stops include:Duomo and Universita'
( southern edge of the centro storico).Municipio ( hydrofoil and ferry terminals),Toledo ( Via Toledo and Quartieri Spagnoli).Dante ( westwern edge of the centro storico)and Museo ( National Archaeological Museum).
Line 2 runs from Gianturco to Garibaldi ( Stazione Centrale) and on to Pozzuoli.Useful stops include:Piazza Cavour ( La sanita' and northern edge of centro storico).Piazza Amedeo ( Chiaia) and Mergellina ( Mergellina ferry terminal).Change between 1 and 2 at Garibaldi or Piazza Cavour ( Known as Museo on Line 1).
Radio Taxi Napoli 081 - 556 44 44 http://www.radiotaxinapoli.it/
« Read other articles