Naples
Orientation to Naples Naples is set deep inside the large,curving Bay of Naples,with Mount Vesuvius looming just five miles away.Although Naples is a sprawling city,its fairly compac core contains the most interesting sights.The tourist's Naples is a trianglewith its points at the Centrale train station in the eas ,the Archaeological Musem to the west,and the Piazza Plebiscito( with the Royal Palace)nd the port to the south.Steep hills rise above this historic core,including San Martino,capped whit a mighty fortress.
Tourist Information Central Naples Just grab a map and browse the brochures.There are TIs in the Centrale train station (daily 9:00-18:00,near track 23,operated by a private agency,tel.081-268 779);by the entrance to the Galleria Umberto I shopping mall,across from Teatro di San Carlo( Mon-Sat 9:00-17:00,Sun 9:00-13:00,tel.081-402-394;and along Spaccanapoli,across from Church of Gesu' Nuovo ( Mon-Sat 9:00-17:00,Sun 9:00-13:00,tel.081-551-2701).For information online,the best overall website is www.inaples.it.At www.inaples.it/eng/quinapoli.htm,you can downloadthe PDF version of the mon thly Qui Napoli booklet,which lists museum hours,events,and transportation info.A print version is occasionally available as TIs.

Arrivals in Naples By TrainThere are several Naples train stations,but all trais coming into town stop at either Napoli Centrale or Garibaldi.Central is the slick,modern main station.It has a small TI ( near track 23),an ATM (at Banco di Napoli near track24),a bookstore ( La Feltrinelli,near track 24),and baggage check (deposito bagagli,near track 5).Pay WCs are down the stairsacross from track 13.Shops and eateriesare concentrated in the underground level.
Archaeological Museum Naples' Archaeological Museum (Museo Archeologico) ,worth offers the best possible peek at the art decorations of Pompei and Herculaneum,the two ancient burgs that were buried in ash by the eruption of Mount Vesuvius in A.D.79.For loves of antiquity,this museum alone makes Naples a worthwhile stop.When Pompei was excavated in the late 1700s,Naples' Bourbon king bellowed,Bring me the best of what you find.The finest art and artifacts ended up here,and today,the ancient sites themselves are impressive.
Cost and Hours: euro 8,sometimes more for temporary exhibits,free first Sun of the month,Wed-Mond 9:00-19:30,closed Tue.Early and temporary closures are noted on a board near the ticket office.In July and August,expect many rooms to be closed due tolack of staff.

Getting There To take the Metro ( Metropolitana)from Centrale Station,follow the signs to the Garibaldi subway station (down the stairs in front of track 13 ).Buy a single transit ticket at thje newsstand or a tobacco shop ( unless you're getting a pass ),and validate it in the small yellow boxes near the escalator going down to the tracks.You're looking for line 2 (Linea 2 ) trains heading in the directions of Pozzuoli (generally depart from track 4).Ride one stop to Cavour .Walk five minutesd uphill through the park along the busy steet.Look for a grand old red building located up a flight of stairs at the top of the block.
If taking the Metro back to Centrale Station,it's faster to catch a train in the Cavour station,rather than at the connected Museo stop ( which is on a different line). Euo 12 for a taxi from the train station to the museum. Informatin:The shop sells a worthwhile National Archaeological Museum of Naples guidebook foe euro 12.Tel.+39 081 442 2149 Baggage Check:Bag check is obbligatory and free Photography:Photos are allowed without a flash Eating:The museum has no cafe',but vending machines sell drinks and snacks at reasonable prices.There are several good places to grab a meal within a few blocks. Overview:Entering the museum stand at the base of the grand staircase.To your right,on the groung floor,are the larger-thsan -life statues of the Farnese Collectioin,starring the Toro Farnese and the Farnese Hercules.Up the stairs of the mezzanine level are mosaics and frescoes ftrom Pompei,including the Secret Room of erotic art.On the top floor are more frescoes,a scale model of Pompei,and bronze statues fro m Herculaneum.WCs are behind the staircase
From the base of the grand staircase,turn right through the door marked Collezione Farnese and head to the far end-walking through a rich collection of idealistic and realistic ancieent portrait busts -to reach the farthest room Sala XIII

Naples Walk
From the Archaeological Museum to Piazza Bellini and Piazza Dante.The first two parts of this walk are a mostly straight one-mile ramble down a fine boiuldevard (with a few colorful detours) to the waterfront at Piazza Plebiscito.Your starting point is the Archaeological Museum ( at the top of Piazza Cavour,Metro:Cavour or Museo.As you stroll,remember that here in Naples,red traffic lights are considered decorations.watch out crossing the street.From the door of the Archaeological Museum,cross the street,veer rightand enter the fancy mall.Galleria Principe di Napoli.This was named for the first male child of the royal Savoia family,the Prince of Naples.Walk directly through it,enjoying this fine shopping gallery from the late 19th century,similar to those popular in Paris and London.Leaving the gallery trhrough the opposite end,walk one block downhill.At via Conte di Ruvo,head left,passing the fine Bellini Theater.After one block,turn right on via Costantinopoli,continuing directly downhill to Piazza Bellini.As you walk ,look up to enjoy architecture built in the late 19th century,when Naples was the last stop on Romantic Age travelers' Grand Tour of Europe.
Piazza Bellini Walking between columns of two grand churches,,suddenly you're in neighborhood Napoli.A statue of Sicilian opera composer Vincenzo Bellini,who worked in Naples in the early 1800s,marks the center of the park.At the downhill ends of the square ,peer down into the sunken area to see the ruined Greek walls:tuff blocks without mortar.
Walk 30 yards downhill ,stop at the horsshoe-shaped Port'Alba gate (on the right).Spin slowly 360 degrees and take in the scene.
Piazza Dante This square is marked by a statue of Dante,the medieval poet.Old Dante looks out over an urban area that was once grand,then chaotic,and is now slowly becoming grand again.Across the street,Caffe' Messico is an institution Known for its espresso,which is served already sweetened ask for senza zucchero if you don't want sugar( pay first,then take receipt to the counter and hand it over). Most Italians agree that Neapolitan coffee is the best anywhere.Walk downhill on...Via Toledo.
Via Toledo the long,straight street heading downhill from Piazza Dante in Naples'principal shopping drag.It originated as a military road build under Spanish rule (hence de name) in the 16th century.Via Toledo skirted the old town wall to connect the Spanish military headquarters ( now the museum where you started this walk).Continue straight on Via Toledo.About three blocks below piazza Dante and a block past Piazza Sette Settembre ,you wi'll come to Via Maddaloni,which marks the start of the long ,straight,narrow street nickamed...Spaccanapoli.
Spaccanapoli  Before crossing the street-whose name translates as split Naples-look left (toward the train station).Then look right( to see San Martino hill rising steeply above the center).Since ancient time ,this thin street has bisected the city.It changes names several times:Via Maddaloni (as it's called here),Via B.Croce,Via S.Biagio dei Librai,and Via Vicaria Vecchia.If you want to abbreviate this walk goes ahead to described next 
Monumental Naples ( Via Toledo,the Spanish Quarter,and Piazza del Plebiscito)
We'll detour off Via Toledo for Just a couple of blocks(rejoining it later).At the Spaccanapoli intersection,go right (toward the church facade on the hill ,up Via Pasquale Scura).After about 100 yards, you hit a busy intersection.Stop.You're on one of Naples' most colorful open-air market streets..Pignasecca
Via Pignasecca Market, Snoop around from here if you are so inclined.Then,turn left down Via Pignasecca and stroll this colorful strips.Youìll pass meat and fish stalls ,produce stands,street food vendors,and much more.This is a taste of Naples'famous Spanish Quarter,which we'll experience more of later in this walk.Via Pignasecca meets back up with Via Toledo at the square called Piazza Carita'
Piazza Carita' This square ,built for an official visit by Hitler to Mussolini in 1938, is full of stern,straight,obedient lines.From Piazza Caritacontinue south down Via Toledo for a few blocks,looking to your left ,Fascist Architecture (Bank)'You can't miss the two big ,blocky bank buildings.
Spanish Quarter This is a classic world of basso (low) living.The streets which were laid out in the 16th century for the Spanish military barracks outside the city walls are unbelievably narrow(and cool in summer),and the buildings rise five stories high..In such tight quarters,life flirting,fighting,playing,and loving happens in the road,his is the cliche' of life in Naplesas shown in so many movies.The Spanish Quarter is Naples at its most characterustic.The shopkeepers are friendly,and the mopeds are bold (watch out).Concerned locals wil tug on their lower eyelids,warning you to be wary.Hungry?Pop into a grocry shop and ask the clerk to make you hois best prosciutto-and-mozzarella sandwich( the price should be around euro 4).Return to Via Toledo and work your way down.Near the bottom of the street,on the right at # 275,is Pintauro,a takeaway bakery famous foe its sfogliatelle.these classic ,ricotta-filledNeapolitan pastries are often served warm from the oven and make a tasty euro 2 treat.Just beyond on the right,notice the station for the Centrale funicular.If you have extra time and enjoy city views,this can take you sweat-freeup to the top San Martino,the hill with a fortress and a monastery/museum looming over town..Across the street is the impressive Galleria Umberto I but don't go in now,as you will see it in a minute from the other side.For now,just keep heading down the main drag and through the smaller Piazza Trieste e Trento to the immense... Piazza del Plebiscito
Piazza del Plebiscito This square celebrates the 1861 vote ( Plebiscito,Plebiscite) in which Naples chose to join Italy.Dominating the top of the square is the church of San Francesco di Paola,with its Pantheon -insipred dome and broad,arcing colonnades..If it's open,step inside to ogle the vast interior a Neoclessical re creation
Royal Palace( Palazzo Reale). Having housed Spanish,French,and even Italian royalty,this building displays statues of nall those who stayed here.Continue 50 yards past of the Royal Palace ( toward the ttrees ) to enjoy a Fine Harbor View.While boats busily serve Capri and Sorrento,Mount Vesuvius smolders ominously in the distance.Look back to see the vast Bourbon red palace its color inspired by Pompei.The hilltopabove Piazza del Plebiscito is San Martino,with its Carthusian monastery-turned museum and Castle of St.Elmo (remember,the Centrale funicular to the top is just across the square and up Via Toledo).The promenade you're on continues to Naples'romantic harborfront the fisherman quarter (Borgo Marinaroi) a fortified island connected tomthe mainland by a stout causeway,with its fanciful ancient Castel dell'Ovo( Egg Castle) and trendy harborside restaurants.Farther along thr harborfront stretches the Lungomare promenade and Santa Lucia district.( The long harborfront promenade,Via Francesco Caracciolo,is a delightful people watching scene on balmy night ).
Gran Caffe' Gambrinus This coffee house,facing the piazza,,takes ytou back to the elegance of 1860.It's a classic place to sample a crispy sfogliatella pastry,or perhaps the mushroom shaped,rumsoaked bread like cakes called baba',which come in a huge variety.Stand at the bar (banco) pay double to sit (tavola)or just wander around as you imagine the cafe' buzzing with the ritzy intellectuals,journalist,and artsy bohemian types who munched an baba' here during Naples' 19th- century heyday.( daily 7:00 -24:00,Piazza del Plebiscito1,tel +39 081 417 582 ).
Teatro di San Carlo
Built in 1737 ,41 years before Milan's La Scala,this is Europe's oldest opera house and Italy's second -most respected(after La Scala)The theater burned down in 1816,and was rebuilt within the year.Beyond Teatro di San Carlo and the Royal Palace is the huge,harborfront Castel Nuovo,which houses governament bureaucrats and the Civic Museum.Cross the street fro Teatro di San Carlo and go through the tall yellow arch into the Victorian iron and glass of the 100-year old shoping mall,Galleria Umberto I.It was built in 1892 to reinvigorate the district after a devastating cholera epidemic occurred here.Gawk up,then walk left to bring you back out on Via Toledo.This walk,double back up Via Toledo to Piazza Carita'veering right( just above the first big fascist -sryle building we saw earlier).On Via Morgantini through Piazza Monteoliveto.Cross the busy street,then angle up Calata Trinita' Magggiore To the fancy column at the top of the hill.(To avoid the backtracking and uphill walk,catch a euro 10 taxi to the Church of Gesu' Nuovo.
Piazza Gesu' Nuovo
This square is marked by a towering 18th-century Baroque monument.The Piazza del Gesù Nuovo, located on the lower decumano, is the symbolic square of the historic center of Naples. Entirely pedestrian, it is dominated by the imposing marble obelisk of the Immaculate and is enclosed by Church of the Gesù Nuovo, from the monastery of Santa Chiara and from historic noble palaces such as, for example, Palazzo Pandola, the Palazzo Pignatelli di Monteleone, the Palazzo Professa (current high school "Eleonora Pimentel Fonseca") and the building of the Congregations (current "Genovesi" high school).After touring the churches,continue alon the main drag.Since this is a university district, you'll see lots of students and bookstores.This neighborhood is also famously superstitious.
Look for incense-burning women with carts full of good -lucky charms for sale.Farther down Spaccanapoli passing Palazzo Venezia,the embassy of Venice to Naples when both were independent powers -you'll see the next square.Piazza San Domenico Maggiore
Piazza San Domenico Maggiore
This square is marked by an ornate 17th-century monument built to thank God foe ending the plague.From this square ,detour left along the right side of the castle-like church,then follow yellow signs,taking the first right and ewalking one block to the remarkable Cappella San Severo.This Baroque chapel is well worth visiting.After touring the chapel,return to Via B.Croce turn left and continue your cultural scavenger hunt..At the intersection of Via Nilo ,find the Statue of the Nile(on the left):A reminder of the multiethnic makeup of Greek Neapolis
Cappella Sansevero
This small chapel is a Baroque explosion mourning the body of Christ,who lies on a soft piòllow under an incredibly realistic veil.It's also the personal chapel of Raimondo de Sangro,an eccentric Freemason,containing his tomb and tombs of his family.Cost and Hours:euros 7,buy,tickets at office at the corner,Mon and Wed-Sat,close Tue,no photos,Via De Sanctis 19,tel.081-551-8470 www.museosansevero.it.
Good English Eexplanations are posted throughours;when,you buy your ticketpick up the free floor plain which identifies each of the statues lining the nave.
Visiting the Chapel:Study the incredible Veiled Christ in the center.Carved out of marble ,it's like no other statue I've seen ( by Giiuseppe Howdeedoodat Sammartino,1753 ).The Christian message
( Jesus died for our salvation) is accompanied by a Freemason message (the veil rapresents how the body and egoare obstacles to real spiritual freedom).
Chapel of Maradona
The small chapel on the right wall is dedicated to Diego Maradona,a soccer star who played for Naples in th 1980s.Locals consider soccer almost a religion,and this guy was practically a deity.You can even see a hair of Diego and a teardrop f from the city when he left Naples.
.
Getting to the Amalfi Coast from airport of capodichino Naples by circumvesuviana train or Curreri bus 
Here below you find a list of useful numbers in case of baggage loss +39 081 7896118  - +39 081 7896540  -199 280180  -+39 081 7896766 - + 39 081 7896765   lost&found@ghnapoli.it     infobag@as-airport.it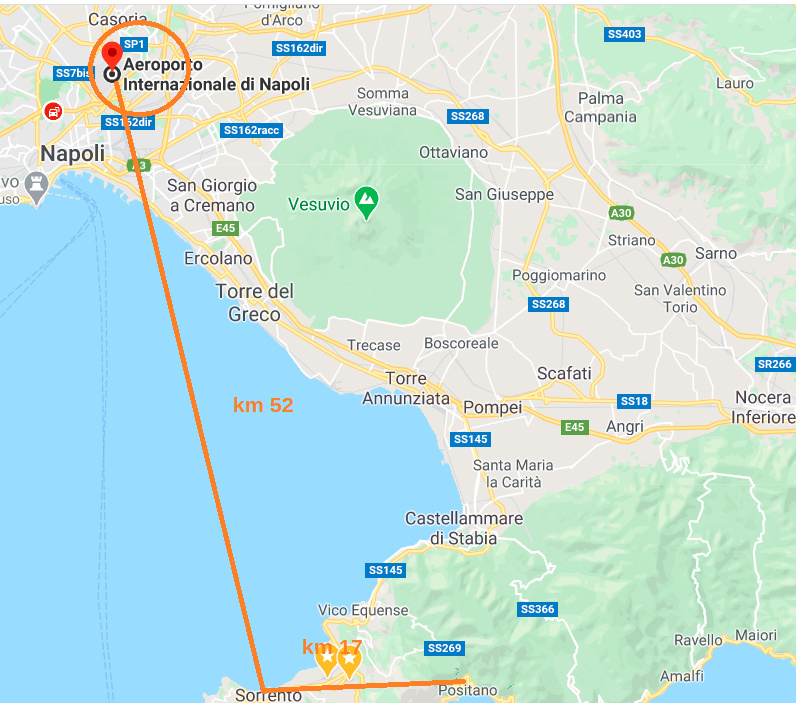 Naples International Airport Capodichino is located 7 Km northeast of the city centre ,is southern Italy's main airport It's served by a number of major airlines and low cost carriers,including easy Jet ,which operates flights to Naples from London.Paris,Berlin and several other European cities
( tel.081-789.6111 for operator,tel.081-848-888-777 for info,handy info desk just outside baggage claim,https://www.aeroportodinapoli.it/ Naples is southern Italy's main rail hub.Most national trains arrive at or depart from Stazione Centrale.-Tel 081-554-31-88 :piazza Garibaldi 
or underneath the main station ,from stazione Garibaldi.Some services also stop at Mergellina station National rail company trenitalia Tel 802021:https://www.trenitalia.com//) runs regular services to Rome  2nd class euro 12 to euro 43.High -speed private rail company Italo tel 06-07-08 https://www.italotreno.it/it
also runs daily services to Rome (2nd class euro 15 to 39,70 minutes ,up to 15 daily ).not all Italo Services stop at Rome Termini with many stopping at Roma Tiburtina instead Circumvesuviana Tel 800 211 388 ww.eavsrl.it) operates frequent train services Napoli to Sorrento - euro 4,50, time 66 minutes
From the Capodichino Airport in Naples you can either catch a bus that takes you to sorrento - There are buses for Sorrento at the times:9,00,11,30 13,00 14,30 16,30,and 19,30  please note: schedule is subject to change without notice;please check https://www.curreriviaggi.it/ for any changes -Curreri bus stop outside Terminal 1 Tickets cost about €10
or catch a bus or taxi for the train station in downtown Naples ( Piazza Garibaldi ) .Alibus bus stop outside Terminal 1 Tickets cost about €4 and can be purchased directly from the driver.
Inside the Station Piazza Garibaldi in Naples down below and take the Circumvesuviana train to Sorrento the trip takes one hour ( there are two types of tickets: the ticket for a single ride and the integrated ticket (TIC) also applies to bus and subway. If you plan to take other means of transport that ask at the ticket office.
The travel time between Naples and Sorrento is 1 hour and 10 minutes. The trains marked with the initials DD does not stop at all stations and arrive in Sorrento in 50 minutes.
The ticket from Naples to Sorrento currently costs 3 Euros and 90.
Sorrento is the last stop on the line.
The Circumvesuviana of Naples Piazza Garibaldi station is located on the lower level of the station, below the one where the high-speed trains arrive.
The Sorrento trains generally depart from platform 3, to access this binary there are no escalators or elevators. Attention to the message on the display that announce the incoming train to be sure to take the train to Sorrento, or else you risk finding yourself in Sarno! ( single-track line ) At Sorrento station you will find instead the elevator. The station is at the center of Sorrento.be careful on the train circumvesuviana in the trait Napoli - Pompei there may be pickpockets.Put the cell phone and the money in the pocket in front and keep the bag always close to you In Sorrento outside the circumvesuviana station you can catch a bus for Amalfi,you will be able to board the bus at the train station .You can buy bus tickets at most newsstand and, Tabacchi Stores, unless you already hold a valid ticket from your earlier trip.Visit http://www.unicocampania.it/ ( you can not buy the ticket on the sita bus, without a ticket you will takes a fine of 100 Euros) On the bus,ask the driver to stop you at Bar Internazionale in Positano.The first stop in Positano CHIESA NUOVA  ( In Italiano.Per piacere,puo' farci scendere alla prima fermata di Positano Chiesa Nuova VICINO AL BAR NTERNAZIONALE)
 Please,can you let us get off at the first stop in Positano Chiesa Nuova close internazionale bar )                                      
From Naples Airport to Naples harbor (Beverello): Shuttle service leaves every 10 minutes ( Alibus shuttle buses zip you from the airport to Naples
Centrale train station/Piazza Garibaldi in 10 minutes,and then head to the port/Piazza Municipio for ferry to Capri , Sorrento and Positano( buses run daily 6,30-24,00 ) 
From Naples harbor in Positano, with stops in Capri: Search times on site Alilauro e Caremar; trying to combine with arrival and departure. Definitely not an inexpensive solution, total costs may reach around 40/50 € per person.
Due to the Covid-19 emergency, many routes have been suspended until 4 May, 2020.
https://shop.caremar.it/it/  https://www.travelmar.it/en/index  ( call center + 39 089 87 29 50 ) 
http://www.alilauro.it/orari-e-tariffe  https://www.lucibello.it/en/positano-jet
NAPLES -POSITANO AND PRAIANO SHUTTLE BUS PRIVATE SERVICE WITH CAR SHARING SYSTEM
https://www.positanoshuttle.com/
You will enjoy the ride from Naples Airport or Central Train Station(Piazza Garibaldi) to your accommodation in Positano or Praiano.
Rome Fiumicino or Rome Termini station to Positano or Praiano shuttle bus
Naples airport to POSITANO, shared transfer
 Getting to the Amalfi Coast from From  Rome Fiumicino Airport
From the airport, take the Leonardo Express shuttle train to the city's main Roma Termini railway station.You ca buy Train tickets from Rome to Naples in the station (at the ticket office or from the automatic dispensers) or online using   https://www.trenitalia.com/   
Reach the Rome city centre easily from Fiumicino Airport using Trenitalia railway services.
From the railway station, located inside the airport area close to the arrival and departure terminals, you can reach the city centre using the numerous and frequent Trenitalia connections:
· The Leonardo express, non-stop service dedicated exclusively to airport passengers to/from Roma Termini with departures every 15 minutes and travel time of 32 minutes*
From the Rome Fiumicino airport you can also take a direct bus to Piazza Garibaldi in Naples  https://fiumicinoexpress.rezdy.com/
An Alternative: Continue on to Salerno
The Freccia Rossa TAV trains go as far as Salerno. You can get off there and take the bus to Amalfi or one of the ferries to Amalfi and Positano. The Molo Concordia pier is located directly opposite the train station in Salerno, so is the easiest to reach. The Molo Manfredi pier is located a few kilometers from the station, so you will need to hire a taxi.Salerno's TI has bus,ferry,and train schedules
Naples
Italy's third largest city is one of it oldest,most artistic and most delicious.Naples'centro storico ( historic centre ) is a Unesco World Heritage Site,its archaeological treasures are among the world's most impressive,and its palaces,castels and churches make Rome look positively provincial.
Then there's the food.Blessed with rich volcanic soils,a beautiful sea,and centuries of culinary Know -how ,The Naples region is one of Italy 's epicurean heavyweights,,serving up the country's best pizza,pasta and coffee,and many of its most celebrated seafood dishes,street snacks and sweet treats.
Public Transport
If travelling on pubblic transport in Naples and Campania ,you will most likely be using ticket Integrato Campania ( TIC ) tickets.readily available from newspaper Kiosk and tabaccaio ( tobacconist ),these integred tickets are valid on bus,tram,funicular,metro and suburban train services in Naples.They are also valid on regional Circumvesuviana and Cumana trains,as well as on EAV and Sita sud buses across campania.they are not valid on ferry and hydrofoil services.Ticket types and prices vary depending on where you want to travel.
The cheapest option is a corsa semplice( one trip )ticket,valid for one trip whitin on travel zone only.The biglietto orario ( multi - trip- ticket ) allows for multiple trips within a specicified time period and across any number of zones.
Daily and multi -day ticket are also available in some areas prices listed in the chapter are generally for biglietto orario tickets
the TIC website https://www.facebook.com/pg/TIC-Ticket-Integrato-Campania-728099030601605/posts/ ) offers a handy ticket calculator covering the entire Campania region:simply click Trova la tariffa ,type in the town of your departur in the Da box and your destination in the A box,then click Cerca
the ticket aside,many of the region's transport companies offer their own tickets,for use on their own services only.
For example,ANM -which runs Naples'city buses ,the four funiculars,and metro lines 1 and 6 -offers a euro 1 single - use ticket.State railway company Ferrovie dello Stato ( FS ) runs the city 's metro line 2,offering a euro 1,20 single - use ticket for use on that metro line.
In Naples,city buses are operated by ANM TEL. 800 639525  http://www.anm.it/ .there's no central bus station,but most buses pass trought Piazza Garibaldi.
Funicular
three of Naples' funicular railways connect the centre with Vomero ( the fourth,Funiculare di Mergellina,connects the waterfront at Via Mergellina with Via Manzoni).
Funiculare Centrale
Ascends from Via Toledo to Piazza Fuga.
Funiculare di Chiaia
From Via del Parco Margherita to Via Domenico Cimarosa.
Funiculare di Montesanto
from Piazza Montesanto Via Raffaele Morghen.
Line 1 runs from Garibaldi ( StazioneCentrale ) to Vomero and thre northern suburbs via the city centre.Useful stops include:Duomo and Universita'
( southern edge of the centro storico).Municipio ( hydrofoil and ferry terminals),Toledo ( Via Toledo and Quartieri Spagnoli).Dante ( westwern edge of the centro storico)and Museo ( National Archaeological Museum).
Line 2 runs from Gianturco to Garibaldi ( Stazione Centrale) and on to Pozzuoli.Useful stops include:Piazza Cavour ( La sanita' and northern edge of centro storico).Piazza Amedeo ( Chiaia) and Mergellina ( Mergellina ferry terminal).Change between 1 and 2 at Garibaldi or Piazza Cavour ( Known as Museo on Line 1).
Radio Taxi Napoli 081 - 556 44 44  https://www.taxinapoli.it/
« Read other articles